Interest

Anime/Manga/Game Industry Celebrates April Fool's Day 2018 - Part II

posted on by the Interest Team
It's that time of the year again: the cherry blossoms fall, and the April Fool's pranks fly (on Easter, no less). Japan's anime, manga and video game industries are fun-loving enough to participate in this tradition every year. Here are 2018's best anime-related April Fool's pranks.
Arc System Works
Arc System Works posted a browser game titled "ARC Global Operation," a parody of Fate/Grand Order. Cards included Arc System Works staff members and the Arc System Works logo.

[Via
Hachima Kikō
]
Ayane Taketatsu
Ayane staff Twitter account posted a spoof of blogs that post voice actress breast shots.
Dynasty Warriors
The Twitter account announced that Guan Yinping has won the world arm wrestling championship.

[
Link
]
Fate/Grand Order
The Fate/Grand Order website announced a new Fate smartphone AR game titled "Fate/Grand Order Gutentag Omen Adios."

A fan posted an animated April Fool's Day video for a crossover between Fate/Grand Order and Gundam.
Google Japan
Google Japan unveiled a keyboard attachment that allows users to write Japanese characters using their finger on a regular keyboard.
[
Link
]
Is the Order a Rabbit?
The official Twitter account announced a "cafe idol-raising game" starring the cast.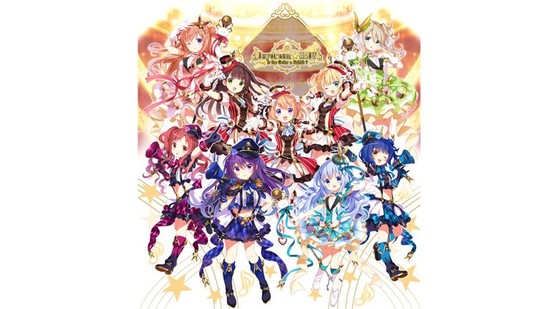 [
Link
]
Platinum Games
Platinum Games asked people to collect all eight figures for its CEO Kenichi Sato.

[
Link
]
Pokémon
Team Rocket took over the official Pokémon website's trainer and Pokémon spotights. The website also
posted
"performance evaluations" for the various branches of Team Rocket that appear in the games.
[
Link
]
Meanwhile, Pokémon GO announced "cutting-edge 8-bit graphics."


Kagawa Prefecture, often called "Udon Prefecture," announced that it will change its name to "Yadon" for the Pokémon Yadon (Slowpoke).

Not to be outdone, Eevee joined the New Japan Pro-Wrestling League AND Tekken 7 as a DLC.
Pop Team Epic
The staff "renewed the anime's website to redirect to the Basilisk: The Ouka Ninja Scrolls home page.
Puella Magi Madoka Magica: Magia Record
The Twitter account announced a "Holy Radio Station" starring Madoka-senpai.

[
Link
]
Toei
Toei announced "Super Sentai Villains" film. The trailer notes that, while it's a joke, the villain characters will appear in the Uchū Sentai Kyūranger vs Space Squad film.
Warriors Orochi
The official Twitter account
announced
a spinoff titled Musō Mizuchi 3 (Warriors Mizuchi 3).

[
Link
]
---
This article has a follow-up:
Anime/Manga/Game Industry Celebrates April Fool's Day 2018 - Part III
(2018-04-02 13:45)
follow-up of
Anime/Manga/Game Industry Celebrates April Fool's Day 2018 - Part I