Interest

Japan's Weekly Playboy Magazine Features One Piece Cosplayers

posted on by Kim Morrissy
Issue commemorates manga's 1,000th published chapter
---
Japan's Weekly Playboy magazine is commemorating the One Piece manga's 1,000th published chapter with an issue featuring One Piece cosplay. The cover shows fashion model Miyū Ikeda (also known as "Michopa") cosplaying as Nami.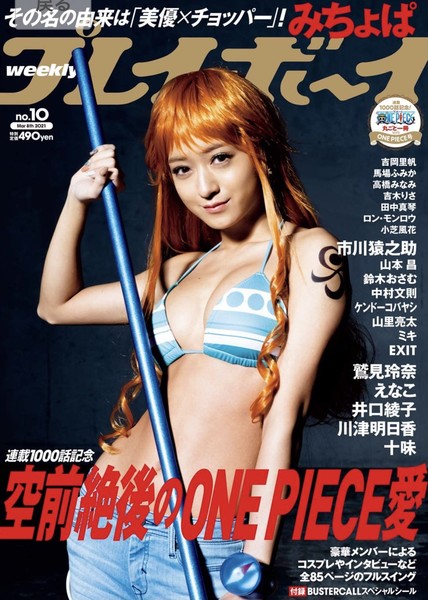 Besides Nami, Ikeda also cosplayed a selection of other characters, including Chopper. Other models cosplaying in the issue include TV announcer Reina Sumi, gravure idols Ayako Inokuchi and Tо̄mi, professional cosplayer Enako, and actress Asuka Kawazu. Weekly Playboy posted a video of the women at their photo shoots on its YouTube channel:
The issue also thoroughly reveals the production process and the original rough draft ("name") of the 1,000th chapter. Eight celebrities, including actor Einosuke Ichikawa, comedian Ryōta Yamasato, former baseballer Masahiro Yamamoto, and novelist Fuminori Nakamura, also share their love for One Piece. The issue shipped on Monday.
Sources: Mainichi Shimbun's Mantan-Web, Weekly Playboy
---