News

Hayao Miyazaki to Appear in S. California on July 28 (Updated)

posted on

2009-06-15

16:44 EDT by Egan Loo
Pixar's Lasseter to host Academy tribute to only anime feature director to win an Oscar
---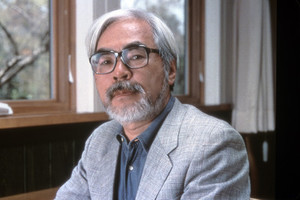 Hayao Miyazaki, the director of the only feature-length Japanese animated film (Spirited Away) to have won an Oscar, will appear at the headquarters of the Academy of Motion Picture Arts and Sciences (AMPAS) — the people behind the Oscars — in Southern California on July 28. Director John Lasseter will host "A Tribute to Animation Master Hayao Miyazaki" event at the Academy's Samuel Goldwyn Theater in Beverly Hills on that date. Lasseter is the chief creative officer at Pixar and Walt Disney Animation Studios, an Academy governor, an Oscar-winning animator in his own right, and a personal friend of Miyazaki.
Miyazaki was not able to appear in California to receive his 2002 Oscar for Best Animated Feature Film in person. Besides his Oscar win for Spirited Away, Miyazaki earned a 2005 nomination in the same category for Howl's Moving Castle.
Before Miyazaki's appearance, the Samuel Goldwyn Theater will host a screening of Spirited Away on July 17. Tickets for both the tribute and the screening will go on sale on June 25 for US$5 each (US$3 for Academy members and students). The Academy is already hosting an "ANIME! High Art – Pop Culture" exhibition of rare production cels and sketches, including some from Miyazaki's works, this summer. Miyazaki made plans to appear in Northern California on July 25 to receive the Berkeley Japan Prize.
Update: More background information added.
---