News

Jewelpet, Kiruminzuu Anime Get New Shōjo Manga Spinoffs

posted on by Egan Loo
---

Jewelpet, the newest anime and toy line from Sanrio and Sega, will launch a manga spinoff in the January issue of Shogakukan's Ciao shōjo magazine on December 28. Sayuri Tatsuyama, the creator of the Happy Happy Clover manga and anime, is drawing Ciao's manga version of Jewelpet. (Another artist, Mako Morie, has been drawing an earlier manga spinoff in other Shogakukan magazines.) Each Jewelpet is a stuffed animal, named after a jewel, that is linked to the online Web-Gurumi site via a secret password. In the storyline, these pets belonged to magicians in "Jewelland," and they can use magic themselves, thanks to their jewel eyes. Viz Media began publishing Tatsuyama's Happy Happy Clover manga in North America this past February.

The same January issue of Ciao will launch another fantasy manga called Fushigi no Mori no Moriko (Moriko of the Mysterious Forest) manga from Keiko Notoyama. Kayoi is a girl transferring between schools when she encounters a boy named Tenma and a mysterious creature named Moriko. As it turns out, Kayoi and Tenma are the only people who can see Moriko. Notoyama had previously drawn Waiwai— Hey! Say! JUMP, a manga dedicated to Johnny & Associates' J-pop boy band Hey! Say! JUMP.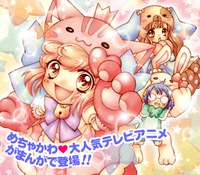 Another magazine, Shueisha's Ribon, will debut Kaori Hanzawa's Kiruminzuu manga in its February issue on December 28. The manga is based on Anyamaru Tantei Kiruminzuu, the new original anime from Shoji Kawamori (Macross, Escaflowne, Basquash!). In the "heartwarming comedy," Riko, Rimu and Nagisa Mikogami are three cute sisters who live in Kamihama, a Japanese city abundant with natural wonders. On an otherwise peaceful day, the three come across a mysterious Kirumin compact in an attic. With the Kirumin, these character-costume-wearing girls can transform into real animals. Scrapped Princess director Soichi Masui and the Satelight, Hal Film Maker, and JM Animation studios launched the anime in October.
---