News

Manga UK Licenses Live-Action Hentai Kamen Film

posted on by Andre Pappas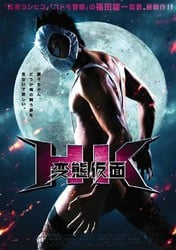 Manga Entertainment UK announced during MCM London Comic Con this past weekend that it licensed the live-action HK/Hentai Kamen film under the title Forbidden Super Hero. The film is an adaptation of Keishuu Andou's Ultimate!! Hentai Kamen manga.
Ryōhei Suzuki (live-action Gatchaman, Mei-chan no Shitsuji, Hana-Kimi, Yankee-kun to Megane-chan) stars in the film as Kyōsuke Shikijō, a high school boy who transforms into a hero by wearing a panties mask — and little else. The movie opened at the Shinjuku WALD 9 theater on April 6, and opened in theaters across Japan on April 13. Andou's six-volume gag manga ran in Shueisha's Weekly Shonen Jump magazine from 1992-1993.
Manga Entertainment UK will host screenings of the film at film festivals in Leeds and Cardiff.
Manga Entertainment UK will also release Evangelion 3.33: You Can (Not) Redo, Dragon Ball GT, Naruto Shippūden: The Lost Tower and Psycho-Pass.
---