News

Atari Katagiri Remakes One Week Friends' Matcha Hazuki's Debut Manga Series

posted on by Sarah Nelkin
Kimi to Kami Hikōki to Meguri begins serialization next month
---

The May issue of Square Enix's Gangan Joker magazine is announcing on Tuesday that Atari Katagiri (Vampire Hunter oneshot) will begin serializing a remake of Matcha Hazuki (One Week Friends)'s very first serialized manga Kimi to Kami Hikōki to. (You, a Paper Airplane, and...) in the magazine's June issue. The remake will be titled Kimi to Kami Hikōki to Meguri (You, a Paper Airplane, and Spinning)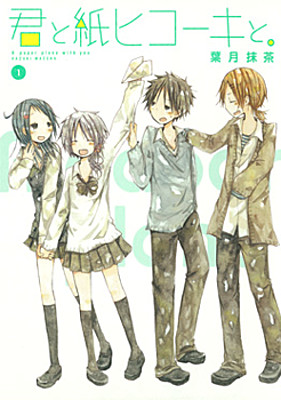 Hazuki's original 4-panel manga revolves around male high school student Kei, who seems to be interested romantically in his childhood friend Rin, who loves paper airplanes. However, he doesn't understand his own feelings. He knows that she's more important than a friend, but not a lover. Kei's normal life becomes complicated when Rin's classmate Ryūsuke becomes friends with her, as they both love paper airplanes. Kei's feelings fly wobbly ahead like the paper airplanes Rin loves so much.
The series ran on Square Enix's Gangan Online digital manga website, and Square Enix published the single volume compiling the series in 2010.
The television anime adaptation of Matcha Hazuki's One Week Friends manga began airing earlier this month. Crunchyroll is streaming the anime as it airs in Japan, and Sentai Filmworks has licensed the series for digital and home video release in North America.
---