×
remind me tomorrow
remind me next week
never remind me
Subscribe to the ANN Newsletter • Wake up every Sunday to a curated list of ANN's most interesting posts of the week.
read more
News

Surreal Post-Apocalyptic Animal Anime Donyatsu's 11th Short Streamed

posted on by Sarah Nelkin
Donyatsu runs a compliment-giving stand with mediocre service in 2nd-to-last episode
---
The official YouTube channel for Donyatsu, the anime adaptation of Yuusuke Kozaki's surreal manga about animal/snack hybrids in a post-apocalyptic world, began streaming the eleventh short on Tuesday.
In this episode, Donyatsu (voiced by Yukari Tamura) is running a compliments stand. Begal (Keiji Fujiwara) takes Donyatsu up on his offer, and the donut feline tells Begal that he is brown, round, and has a hole in the middle of his body. Begal replies that maybe what he said was not much of a compliment, and Donyatsu tells him that the fee for the compliment is one mackerel. Begal tells Donyatsu that the fee is too much for what he got. Rollcake hybrid cat Ronya (Hikari Shiina) asks Donyatsu to compliment her too, and she is told that her ribbon is good and red. When Ronya asks for a compliment not about her ribbon, Donyatsu tells her that she's cute if she shuts up. Ronya in turn slaps him, and tells him that he's far too unskilled at complimenting people.
Begal cheers up his friend, saying that honesty is one of the things that's good about him. After finding out that Begal is good at complimenting, Donyatsu makes his friend his successor, even though Begal never wanted to become that in the first place. He is shocked when he sees a line forming to get compliments from him, and tries to shoo them off.
The anime shorts, each roughly two minutes long, began running before feature films in Tokyo's Shinjuku Wald 9 and other theaters in the T-Joy chain last June. A new short will debut every month from director Mankyū (PUCHIM@S, Tono to Issho, 30-sai no Hoken Taiiku, Kakko-Kawaii Sengen!) and the studio Gathering (PUCHIM@S, Tono to Issho, 30-sai no Hoken Taiiku, Inumarudashi—). Next month will mark the final Donyatsu episode, although a DVD set containing all twelve episodes was released in Japan last year.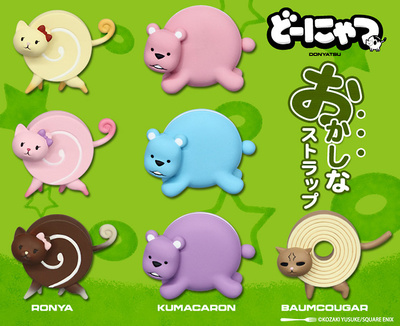 Kozaki launched the manga in Square Enix's Young Gangan magazine in December 2011, and Square Enix published the third compiled book volume last August.
Kozaki is arguable best known outside Japan for his design work in the Fire Emblem Awakening, No More Heroes, and Osu! Tatakae! Oendan games. He also created designs for the Speed Grapher anime, which led to his role as character designer for Sunrise's Bakumatsu Kikansetsu Irohanihoheto. He designed the virtual idol duo Meaw for the Starchild Records label.
Kozaki published his first major manga series Kyoko Karasuma - Detective of the Asakusa Police Department in 2002 in the magazine Mystery B-Street. GungHo Online Entertainment announced in September that Kozaki is illustrating the PlayStation 4 game Lily Bergamo by Grasshopper Manufacturer's Goichi "Suda51" Suda (Lollipop Chainsaw, Killer is Dead).
---