×
remind me tomorrow
remind me next week
never remind me
Subscribe to the ANN Newsletter • Wake up every Sunday to a curated list of ANN's most interesting posts of the week.
read more
News

Japanese Box Office, August 30-31

posted on by Karen Ressler
---

Stand By Me Doraemon, the 36th Doraemon film and franchise's first CGI film, stayed at #1 in its fourth weekend. Satoshi Tsumabuki, who previously played 30-year-old Nobita in a series of live-action Toyota car commercials, also plays Nobita as a young man in the film. The film also ranked #1 on Box Office Mojo's chart and earned 519,895,839 yen (US$4,950,329) on 319 screens for a new total of 5,866,106,925 yen (US$55,855,721).

The first live-action adaptation of Lupin III in four decades opened this weekend at #2. The movie stars Shun Oguri as Lupin, Tadanobu Asano as Detective Kōichi Zenigata, Gou Ayanoas Goemon Ishikawa, Tetsuji Tamayama as Daisuke Jigen, and Meisa Kuroki as Fujiko Mine. Jerry Yan (Meteor Garden) of the popular Taiwanese group F4 will play an original character, Lupin's nemesis Michael Lee. The film also ranked #2 on Box Office Mojo's chart and earned 444,036,302 yen (US$4,229,925) on 307 screens for a new total of 444,036,302 yen (US$4,229,925).

The live-action adaptation of Taku Tsumugi's Hot Road shōjo manga fell from #2 to #4 in its third weekend. The manga revolves around Kazuki Miyaichi (Rena Nōnen), a girl who feels that she does not receive any love from her mother (Yoshino Kimura). As she carries anxiety about not being needed by anyone, she begins to feel attracted to a juvenile delinquent named Hiroshi Haruyama (Hiroomi Tosaka). Ryōhei Suzuki also stars as Tōru Tamami, the leader of the Nights gang. The film also ranked #4 on Box Office Mojo's chart and earned 185,562,430 yen (US$1,767,061) on 302 screens for a new total of 1,621,318,706 yen (US$15,442,607).

Rurouni Kenshin: Kyoto Taika-hen (Rurouni Kenshin: Kyoto Inferno), the first of two sequels to the 2012 live-action Rurouni Kenshin film, fell from #3 to #5 in its fifth weekend. The sequels adapt the Kyoto arc of Nobuhiro Watsuki's original manga, with Takeru Satoh returning as Kenshin Himura and Tatsuya Fujiwara (live-action Death Note) playing the antagonist Makoto Shishio. The film also ranked #5 on Box Office Mojo's chart and earned 175,916,181 yen (US$1,675,552) on 335 screens for a total of 4,291,758,965 yen (US$40,865,142).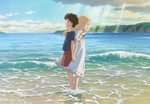 Studio Ghibli's newest film When Marnie Was There (Omoide no Marnie) fell from #6 to #7 in its seventh weekend. The film adapts Joan G. Robinson's classic English children's novel of the same name. In his second film, director Hiromasa Yonebayashi (2010's The Secret World of Arrietty) is shifting the setting from the novel's Great Britain to a Japanese village on the shores of Hokkaido. The film also ranked #7 on Box Office Mojo's chart and earned 77,407,682 yen (US$737,286) on 461 screens for a new total of 3,216,434,460 yen (US$30,635,638).

Pocket Monster XY: Hakai no Mayu (Pokémon the Movie: Diancie and the Cocoon of Destruction) stayed at #8 in its seventh weekend. The film guest-stars Marika Matsumoto, Japanese pro soccer player Atsuto Uchida, Yoshiko Mita, Kouichi Yamadera, Shoko Nakagawa, Rika Adachi, and comedian duo Nakagawa-ke. In the film's story, a country called the Diamond Empire falls into chaos when the legendary Pokémon Diancie loses her power to control the Holy Diamond, the empire's power source, and so she enlists the help of Ash and his friends. The film ranked #9 on Box Office Mojo's chart and earned 63,967,250 yen (US$609,081) on 357 screens for a new total of 2,738,843,909 (US$26,090,446).

Gareth Edwards' Godzilla fell from #8 to #11 on Box Office Mojo's chart in its sixth weekend and earned 52,742,260 yen (US$502,250) on 427 screens for a new total of 3,040,272,569 yen (US$28,948,776). The film, which opened in the United States in May, stars Aaron Taylor-Johnson, Elizabeth Olsen, Ken Watanabe, David Strathairn, Bryan Cranston, Richard T. Jones, Juliette Binoche, and Sally Hawkins.

The live-action film of Santa Inoue's Tokyo Tribe 2 (Tokyo Tribes) manga opened at #12 on Box Office Mojo's chart and earned 41,888,487 yen (US$393,658). The movie, which follows the struggles of street gangs in a near-future version of Tokyo, stars Ryōhei Suzuki (HK/Hentai Kamen) as Bukuro Wu-Ronz gang leader Mera and hip-hop artist YOUNG DAIS as KAI in the rival gang Musashino Saru. Director and writer Shion Sono (Suicide Club, Himizu, All Esper Dayo!) selected DAIS from the film's open auditions on YouTube.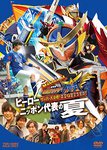 The double feature consisting of Gekijō-ban Kamen Rider Gaim Soccer Daisakusen! Kogane no Kajitsu Sōdatsuhai! (Kamen Rider Gaim the Movie: The Great Soccer Battle! The Golden Fruit Cup Struggle!) and Ressha Sentai TōQGer The Movie: Galaxy Linefell from #12 to #14 on Box Office Mojo's Chart in its seventh weekend and earned 19,618,756 yen (US$186,805) on 308 screens for a new total of 874,797,226 yen (US$8,329,618). The films are based on the latest installments in the live-action Kamen Rider and Super Sentai television franchises, respectively. The Kamen Rider Gaim film includes participation from Japan's professional J.League soccer players and the Ressha Sentai TōQGer film follows the Safari Ressha who run the Galaxy Line, their conductor named Lady, and the Shadow Line member pursuing them.

Shin Gekijō-ban Initial D Legend 1 -Kakusei- (New Initial D the Movie Legend 1: Awakening) fell from #11 to #15 on Box Office Mojo's chart in its second weekend and earned 16,575,645 yen (US$157,878) on 30 screens for a new total of 72,859,615 yen (US$693,967). The film is the first in a planned trilogy that retells the beginning of the story from Shuuichi Shigeno's original car-racing manga. Mamoru Miyano stars as high school student Takumi Fujiwara, whose precise driving skills and his father's modified Toyota Sprinter AE86 Trueno make him the best amateur road racer on Mt. Akina's highway.
Sources: Kogyo Tsushinsha, Box Office Mojo
Update: Tokyo Tribe added. Thanks, GATSU and Daniel Zelter.
---
This article has a follow-up:
Japanese Box Office, September 6-7
(2014-09-14 23:20)
follow-up of
Japanese Box Office, August 23-24