×
remind me tomorrow
remind me next week
never remind me
Subscribe to the ANN Newsletter • Wake up every Sunday to a curated list of ANN's most interesting posts of the week.
read more
News

Xuccess Heaven Project Announced as Smartphone RPG

posted on by Sarah Nelkin
Bandai Namco Online
,
Sega
Networks collaborate for mixed-media project starring over 20 voice actors, including Sawashiro siblings
---
Bandai Namco Online and Sega Networks announced on Tuesday that its previously announced Xuccess Heaven project includes a smartphone RPG.
The announcement was made with a promotional video, which features the theme song "Believer's HEAVEN" by Iris:
Text: An extravagant team of creators gathers!
Text: Planning, original concept: Naotake Furusato
Text: Animation Director: Hirokazu Hisayuki
Text: Character designers: Hirokazu Hisayuki, Youhei Sasaki, Shou Matsui, Yukiko Akiyama, Hisashi Hirai
Text: Characters are brought to life by an extravagant line-up of voice actors!
Text: Tomoaki Maeno, Atsushi Abe, Kiyotaka Furushima, Yūmi Shida, Hikaru Midorikawa, Junichi Suwabe, Yuka Iguchi, Hiroyuki Yoshino, Miyuki Sawashiro, Masami Kikuchi, Kenichi Suzumura, Tomokazu Sugita, Mamoru Miyano, Nobuyuki Hiyama, Jun Fukuyama, Houko Kuwashima, Kikuko Inoue, and other glamorous names
Text: Two beautiful theme songs!
TexT: "Believer's HEAVEN" by Iris and "Photosynthesis" by Yume Miru Adolesence
Text: The first serious animation RPG for smartphones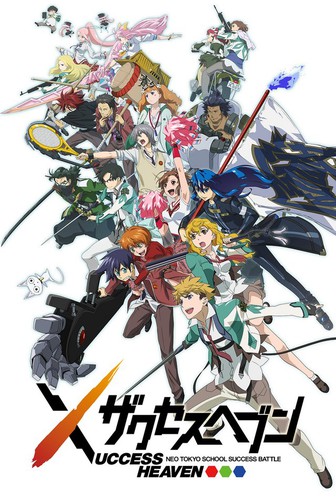 The voice cast of the game includes:
Tomoaki Maeno, Mamoru Miyano, Jun Fukuyama, Yūmi Shida (from Yume Miru Adolescence), and Aya Endo as students at the Green Academy
Atsushi Abe, Mariko Toribe, Hiroyuki Yoshino, Hikaru Midorikawa, and Kazumi Togashi as students at the Red Academy
Kiyotaka Furushima, Yuko Hara, Junichi Suwabe, Tomokazu Sugita, Miyuki Sawashiro and her younger brother Chiharu Sawashiro as students at the Blue Academy
Sachi Kokuryu as a student at the Black Academy
Iris members Yū Serizawa, Akane Nishiya, Miyu Kubota, Yūki Wakai, and Saki Yamakita as students of the White Academy
Naotake Furusato (CROSS ANGE Rondo of Angel and Dragon) is credited with the project's planning and original concept. The character designers include Hirokazu Hisayuki (My-HiME), Youhei Sasaki (Phi-Brain - Puzzle of God), Shou Matsui (Code Geass: Lelouch of the Rebellion animation director), and Yukiko Akiyama (Black Cat), and Hisashi Hirai (Gundam Seed).


Over 20 clips of animation will be featured within the game. The game is the first part of the larger Xuccess Heaven mixed-media project.
Update: Typo fixed. Thanks, Rozza-C!
Source: Inside Games via Hachima Kikō
---