×
remind me tomorrow
remind me next week
never remind me
Subscribe to the ANN Newsletter • Wake up every Sunday to a curated list of ANN's most interesting posts of the week.
read more
News

Seraph of the End Anime's 2nd Promo Video English-Subtitled

posted on by Egan Loo
Supernatural action series will premiere on April 4
---
The second promotional video for the Seraph of the End television anime began streaming in Japanese and with English subtitles on Tuesday.

The manga by novelist Takaya Kagami (The Legend of the Legendary Heroes, A Dark Rabbit Has Seven Lives), manga creator Daisuke Furuya, and manga artist Yamato Yamamoto takes place in a world where an unknown virus has killed the entire human population except for children. Those children were then enslaved by vampires. The manga centers on Yūichirō Hyakuya, a human who dreams of becoming strong enough to kill all vampires.
The cast members include:
Miyu Irino
as Yūichirō Hyakuya, "a boy who escaped from the city of vampire. He holds intense hatred against vampires who killed his family, and enlisted in the Japanese Imperial Demon Army for vampire extermination. He is not always a good team player, but is kind and caring deep inside."

Kensho Ono as Mikaela Hyakuya, "the second remaining survivor of the Hyakuya Orphanage, and best friend of Yuichiro. He was thought to have died when escaping from the city of vampire, but was alive and turned into a vampire. He fights to rescue Yuichiro who is been used by humans."


Yūichi Nakamura as Guren (Glen) Ichinose, "Lieutenant Colonel of the "The Moon Demon Company," Vampire Extermination Unit of the Japanese Imperial Demon Army. He has led Yuichiro to join the Japanese Imperial Demon Army after he escaped the city of vampire. He is secretly attempting something to reform the Imperial Demon Army governed by the Hiragi Family."


Takahiro Sakurai as Felid Bathory, "the man who killed Yuichiro's family when they tried to escape the city of vampire. As a Seventh Progenitor vampire, he has much power but many times, he speaks nonsense. He seems to be plotting something with human behind everyone's back."


Saori Hayami as Shinoa Hiiragi, "the Squad Leader of "The Moon Demon Company". Her origin is Hiragi Family who takes control of the Japanese Imperial Demon Army, and is the real sister of Mahiru Hiiragi who developed the Cursed Gear. Is a subordinate of Lieutenant Colonel Guren, and was appointed to supervise Yuichiro Hyakuya."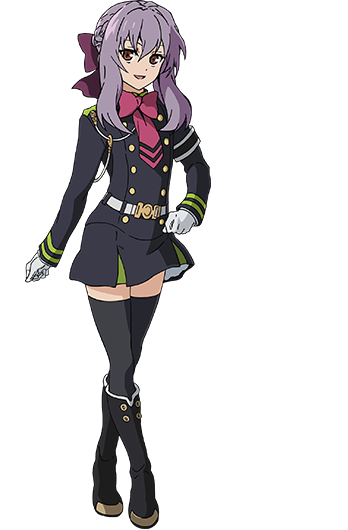 Nobuhiko Okamoto as Yoichi Saotome, "a member of the "The Moon Demon Company" fighting vampires with Yuichiro. His sister has been killed by a vampire, and joined the troop for revenge. Although he is kind-hearted, he has a strong will and stand up against difficulty at times of emergency."


Kaito Ishikawa as Shiho Kimizuki. "Same as Yuichiro, Shiho belongs to the "The Moon Demon Company." He is clear headed with excellent combat ability, but is cynical and is treated as a trouble maker among others. Has a sister ill in bed, and enlisted in the army in order to undergo the treatment."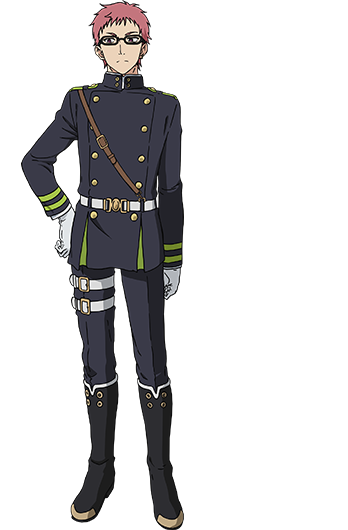 Yuka Iguchi as Mitsuba Sangu, "an elite who belongs to the Vampire Extermination Unit since 13 years old. Has known Shinoa for a long time. She thinks that she let a member die because of her selfishness, and since then focuses on teamwork during battle."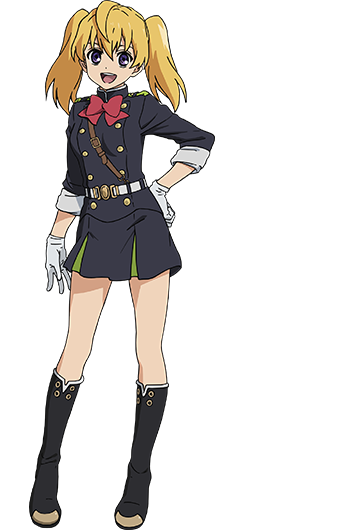 Tomoaki Maeno as Kureto Hiragi, "a Lieutenant General of the Japanese Imperial Demon Army. He is very ruthless as Shinoa calls him a 'monster,' and is willing to retaliate anyone who is against the Hiragi Family. His ambition is to exterminate vampires from Japan, and have the world under the control of the Japanese Imperial Demon Army."
Tatsuhisa Suzuki as Shinya Hiragi, "a Major General of the Japanese Imperial Demon Army. He was chosen to marry Shinoa's older sister Mahiru and was adopted by the Hiragi Family. Although he has high capacity of spellcraft from childhood, is not comfortable about the Hiragi Family, and is good friends with Guren holding the same intention."
Aoi Yūki as Krul Tepes, "a queen who rules Sanguinem, the city of vampire. She is the Third Progenitor and holds extraordinary power. 4 years ago, she gave her own blood to Mikaela who was terribly injured from a fight with Ferid, and resurrected him as a vampire."
Kenichi Suzumura as Crowley Eusford, "a noble of the Thirteenth Progenitor who belongs to the faction led by Ferid Bathory. He participated in the battle for Shinjuku, and at the battle with Shinoa's squad, showed his overpowering ability which even beat down Yuichiro with the Black Demon gear!!"
Atsumi Tanezaki as Sayuri Hanayori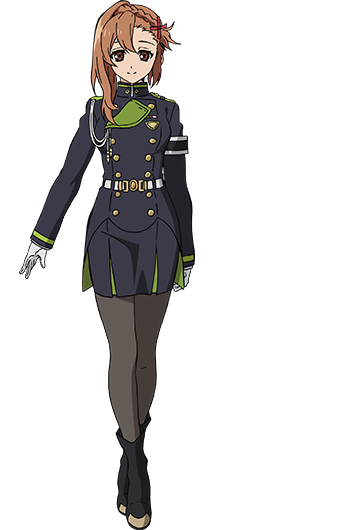 Yui Ishikawa as Shigure Yukimi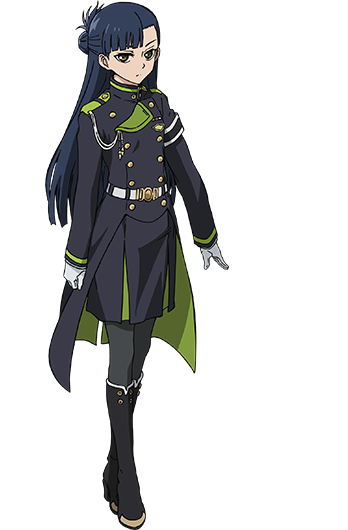 Hibiku Yamamura as the demon Asuramaru

Takuma Nagatsuka as the vampire Lacus Welt
Yuichiro Umehara as the vampire René Simm
Sawano (Aldnoah.Zero, Attack on Titan, Blue Exorcist, Mobile Suit Gundam UC, Sengoku Basara - Samurai Kings, The Seven Deadly Sins) is producing and co-composing the music with Takafumi Wada, Asami Tachibana, and Megumi Shiraishi. The eighth volume of the original manga will bundle a drama CD on April 3. Original manga story creator Takaya Kagami is writing the script, and original manga artist Yamato Yamamoto is illustrating the CD cover.
Composer Hiroyuki Sawano will produce the opening and ending themes. The opening theme by SawanoHiroyuki[nZk]:Gemie will be titled "X.U." and the ending theme by SawanoHiroyuki[nZk]:Yosh will be titled "scaPEGoat." Both themes will ship on a CD on May 20.
The series will premiere on April 4 on Tokyo MX at 10:00 p.m. The series will also air on MBS, TV Aichi, and BS11. The anime will run in two split cours (quarters of the year) with 12 episodes each this year: from April to June and then from October to December.
[Via Ota-Suke]]
---