News

AFA Singapore to Host Idol Group Stand Up! Hearts

posted on by Rafael Antonio Pineda
Group voted #1 in CHEERZ idol ranking to perform at November 27-29 event
---

Yūyu Arata of Japanese idol group Stand-Up! Hearts announced on Monday that Stand-Up! Hearts will perform at Anime Festival Asia's main convention in Singapore as a musical guest.
The group was voted #1 in the CHEERZ idol ranking application to perform at Anime Festival Asia Singapore.
MAGES. founded Stand-Up! Hearts in September 2014 by choosing applicants for its "Stand-Up! Project" new idol group project. The group is composed of nine members, including: Yūyu Arata, Madoka Usami, Kotone Uchida, Karin Ochi, Rie Tachibana, Nijika, Kazune Manami, Sumire Moriyama, and Yuno Yurano. The group has performed in Tokyo, and has streamed performances through the Showroom-Live and CHEERZ applications. The group performs songs previously composed by MAGES. representative producer Chiyomaru Shikura (Chaos;HEAd, Steins;Gate, Robotics;Notes). Stand-Up! Hearts is also a trainee sister group to Afilia Saga (Hyperdimension Neptunia, Isuca, AntiMagic Academy "The 35th Test Platoon").
Other musical guests for AFA Singapore include:
Back-On (Air Gear, Gundam Build Fighters, Fairy Tail)
bless4 (Genesis of Aquarion, Amagi Brilliant Park)
HoneyWorks/CHICO with Honeyworks (Magic Kaito 1412, Tokyo Ravens, Blue Spring Ride)
ZAQ (Love, Chunibyo & Other Delusions!, Non Non Biyori, Maria the Virgin Witch)
Ayana Taketatsu (K-ON!, Momokyun Sword, The Pilot's Love Song)
Maaya Uchida (Gatchaman Crowds, Robot Girls Z, The [email protected] Cinderella Girls)
Suzuko Mimori (Tantei Opera Milky Holmes, Love Live!, Teekyū)
Michi (Rokka: Braves of the Six Flowers)
Shiori Mikami (Yuruyuri - Happy Go Lily, Ixion Saga DT, Ōkami-san & Her Seven Companions)
Yumiri Hanamori (The Rolling Girls, Etotama)
Yurika Endō (The Severing Crime Edge, Z/X Ignition, Ace of Diamond)
GARNiDELiA (Kill la Kill, The irregular at magic high school, Gundam: Reconguista in G)
May'n (Macross Frontier, Ōkami-san & Her Seven Companions, Valkyria Chronicles 3)
Mika Kobayashi (Attack on Titan, Guilty Crown, Kill la Kill) with Tetsuro Shimaguchi (KAMUI)
nano (Btooom!, Arpeggio of Blue Steel, M3 the dark metal)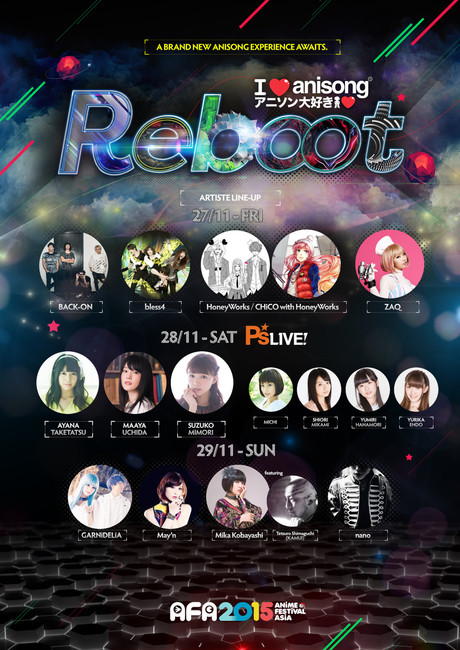 The event's second day on November 28 is labeled as a P's LIVE concert, which is Japanese music label Pony Canyon's name for its concerts with Pony Canyon-associated voice actors, actresses, and artists. Ayana Taketatsu, Maaya Uchida, Suzuko Mimori, Michi, Shiori Mikami, Yumiri Hanamori, and Yurika Endō are all affiliated with Pony Canyon and have previously performed at P's LIVE concerts in Japan. This will be the first time that Pony Canyon will hold a P's LIVE concert outside of Japan. Pony Canyon held the last P's LIVE concert on March 8 in the Yokohama Arena.
Anime Festival Asia Singapore will hold its event from November 27 to 29. Anime Festival Asia began in Singapore in 2008, and has since held sister events in Indonesia and in Thailand.
The Anime Festival Asia convention held its Bangkok, Thailand event from April 30 to May 3, and held its event in Indonesia last Friday to Sunday.
[Via Tokyo Girls' Update]
---
this article has been modified since it was originally posted; see change history