News

4th Black Butler Musical Adapts Manga's Circus Arc

posted on by Rafael Antonio Pineda
Reo Uchikawa,
Ryosuke Miura
join cast for play running November-December
---
The official website for the new stage musical of Yana Toboso's Black Butler manga opened on Wednesday. The website reveals the production's full title Musical Black Butler ~Noah's Ark Circus~, a visual, and the cast.

The main cast includes:
Yuta Furukawa as Sebastian Michaelis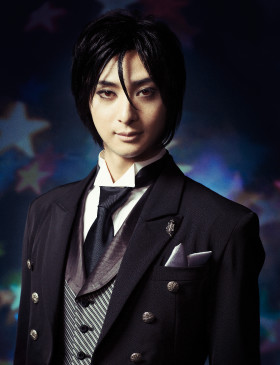 Reo Uchikawa as Ciel Phantomhive


Ryosuke Miura as Joker


The rest of the cast includes:
Yuki Tamaki as Snake
Asami Tano as Beast
Ryō Mitsuya as Dagger
Teruma as William T. Spears
Noboru Washio as Baldroy
Takuya Kawaharada as Finnian
Shiori Sakata as Mey-Rin
Shūhei Izumi as Undertaker
Shun Takagi as Fred Abberline
Takeshi Terayama as Sharpe Hanks
Tsukito Matsui as Doll
Ayuka Kurachi as Peter
Saya Chinen as Wendy
Takenori Gotō as Jumbo
Shinya Kote as Baron Kelvin
Uchikawa, Miura, Tamaki, Tano, Mitsuya, Matsui, Kurachi, Chinen, Gotō, and Kote are all new actors, while the rest reprise their roles from previous productions.
The musical will debut at the Tokyo Dome City Hall in Tokyo and will run there from November 18 to 27. The musical will then run at Fukuoka's Canal City Theatre on December 3-4, at Amagasaki's Amashin Archaic Hall in Hyogo prefecture on December 9-11, and then at Kariya's Kariya Cultural Center in Aichi prefecture on December 17-18.

The musical will adapt the Circus Arc from the sixth to eighth volumes of the manga, where Ciel and Sebastian's investigation of missing (presumed dead) children will lead them to a traveling circus troupe. The Black Butler: Book of Circus television anime adapts the same arc.
The new stage musical will be the fourth musical adaptation of Black Butler. The third musical, which is based on the manga's Jack the Ripper arc, originally ran in Tokyo in September 2014 and in Osaka in October 2014. That musical had additional runs last November and December in Osaka, Miyagi, Tokyo, and Fukuoka, as well as the first overseas performance of the musicals in Shanghai, Beijing, and Shenzhen last December.
Sono Shitsuji, Yūkō (That Butler, Friendship), the first Black Butler musical, ran in Tokyo in 2009. The second musical, Musical Kuroshitsuji- The Most Beautiful DEATH in The World- Sen no Tamashii to Ochita Shinigami (Musical Black Butler: The Most Beautiful Death in The World – A Thousand Souls and The Fallen Grim Reaper), debuted in 2010 and had a second run in Tokyo in May 2013 and in Osaka in June 2013.
Toboso launched the manga Square Enix's Monthly G Fantasy magazine in 2006, and Square Enix released the manga's 22nd compiled volume last November, with the 23rd volume slated for 23. Yen Press is releasing the manga in North America, and it released the 21st volume last November, with the 22nd volume slated for May 24.
The original manga revolves around a noble English boy named Ciel Phantomhive and Sebastian Michaels, Ciel's butler who is more than he seems. The manga already inspired a television anime series in 2008, a television anime sequel in 2010, several original video anime, and a live-action film. The manga also inspired the Black Butler: Book of Circus television series that premiered in July 2014.
A new anime film has been green-lit, with Daisuke Ono and Maaya Sakamoto reprising their roles as main characters Sebastian Michaelis and Ciel Phantomhive, respectively. The film will debut in early 2017.
Source: Comic Natalie
---