News

JoJo's Bizarre Adventure: Golden Wind Anime's 6 Main Cast Members Revealed (Updated With Promo Video)

posted on by Crystalyn Hodgkins
---
The Japanese premiere event for the JoJo no Kimyō na Bōken: Ōgon no Kaze (JoJo's Bizarre Adventure: Golden Wind or Vento Aureo) anime revealed the show's cast on Friday as well as a promotional video.
The show will star:
Kensho Ono as Giorno Giovanna


Yūichi Nakamura as Bruno Bucciarati


Junya Enoki as Pannacotta Fugo


Daiki Yamashita as Narancia Ghirga


Kousuke Toriumi as Guido Mista


Junichi Suwabe as Leone Abbacchio


Ono and Nakamura appeared at the event. The staff at the event joked about how the voice actors for the three most recent protagonists for the franchise all have the last name Ono (Daisuke Ono plays Jōtarō Kūjō and Yūki Ono plays Jōsuke Higashikata).
The event is screening the show's first episode. The first episode of the anime is also screening at the Anyerri Hall in Tokyo and Japan Expo in Paris, France at the same time on Thursday, and it will later screen at Anime Expo on July 7.
The anime will premiere on television in October.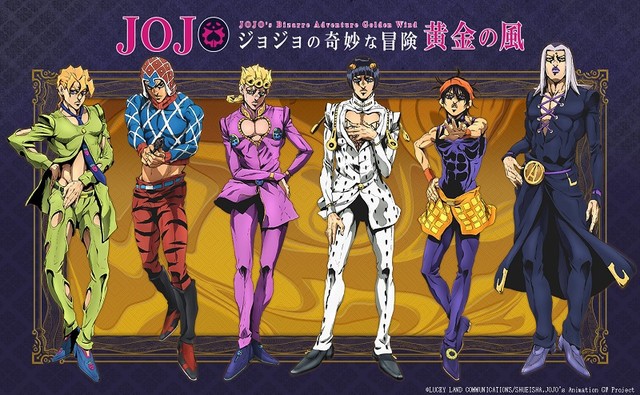 The original manga continues the story from the previous entries in Hirohiko Araki's JoJo's Bizarre Adventure manga, when Jotaro asks Koichi to travel to Naples to investigate a person known as Haruno Shiobana, whose real name is later revealed as Giorno Giovanna. The story then follows Giorno in his goal to rise to the top of the Passione mafia group and turn it into a band of honorable thieves.
Yasuhiro Kimura (Three Leaves, Three Colors) and Hideya Takahashi (Keijo!!!!!!!!, Anonymous Noise) will direct the anime at david production, with Naokatsu Tsuda as chief director. Yasuko Kobayashi is returning from the previous anime to handle the series composition, with most of the staff also returning from previous JoJo's Bizarre Adventure anime. Takahiro Kishida (Serial Experiments Lain, Baccano!, Haikyu!!) is drawing the character designs. Shun'ichi Ishimoto is the animation director. Takahito Katayama is credited for Stand design and action animation director.
Yukitoshi Hōtani is credited for prop design. Reeki Taki, Junko Nagasawa, and Kaoru Aoki are credited for art setting. Yuuko Satou is the color key artist, Shunichiro Yoshihara and Megumi Kato are the art directors, Kazuhiro Yamada is the director of photography, and Kiyoshi Hirose is the editor. Yoshikazu Iwanami is the sound director, and Yūgo Kanno is composing the music.
The JoJo's Bizarre Adventure: Diamond Is Unbreakable anime, which adapted Part 4 of the overall JoJo's Bizarre Adventure manga, aired for 39 episodes from April to December 2016. david production has also been adapting the Thus Spoke Kishibe Rohan (Kishibe Rohan wa Ugokanai) spinoff manga. A second anime DVD will ship with the manga's second volume on July 19.
Source: JoJo Japanese premiere event livestream
---