Warner Bros. Consumer Products Names Mattel Global Toy Licensee for Speed Racer and The Dark Knight
Highly Anticipated Films Set for 2008 Debut
Licensing International Expo 2007
BURBANK, Calif.--Warner Bros. Consumer Products (WBCP) announced today that it has named the world's leading toy manufacturer, Mattel, Inc., as the global master toy licensee for both Speed Racer and The Dark Knight, two of the biggest summer films coming out in 2008 from Warner Bros. Pictures. Mattel will apply its expertise across virtually all product lines including vehicles, action figures, action play, remote control vehicles, handheld electronics as well as games and puzzles.
"In Mattel, we have the best partner with the strongest track record of bringing great products and great stories together for a winning combination in the toy aisle. With these deals, we know that two of our most important tentpole films for 2008, Speed Racer and The Dark Knight, will be brought to life through products created by the most creative toy designers in the world," said Brad Globe, president, Warner Bros. Consumer Products.
"We have a strong, long-standing relationship with Warner Bros. Consumer Products and are thrilled to partner with them for two of the most anticipated films of 2008," said Neil Friedman, President, Mattel Brands. "The distinctive visuals and stimulating races of Speed Racer, coupled with one of the most popular super hero film franchises of all time in The Dark Knight, provides us with a unique opportunity to create fun and innovative toys and games that bring the excitement and action of both films to life in a way that kids will love and remember."
The green flag drops on May 9th when Speed Racer makes his big screen debut in the newest project from writer/directors Larry and Andy Wachowski, the creators of the groundbreaking The Matrix trilogy, and producer Joel Silver. A live-action, high-octane family adventure based on the classic series created by anime pioneer Tatsuo Yoshida, the big-screen Speed Racer will follow the adventures of the young race car driver Speed (Emile Hirsch) in his quest for glory in his thundering Mach 5. It will feature other characters that fans of the show will remember, including Mom (Susan Sarandon) and Pops Racer (John Goodman), girlfriend Trixie (Christina Ricci) and his mysterious arch-rival, Racer X (Matthew Fox).
"The Wachowski brothers said to me one day that they were always disturbed that their nieces and nephews could never see their movies. This was the first time all their friends, family and the kids in their lives could see one of their films. They wrote a pure family movie. It's fun. It's got great characters, great dialogue, and great stories," said Silver.
Mattel will tap into the action, characters and storyline to bring the film to life across a broad number of their product lines. With Speed's Mach 5 leading the way, the leading die-cast vehicle brand, Hot Wheels, will feature a wide assortment of die-cast vehicles, race sets and track sets based on the film. Tyco, the leading remote control vehicle brand, will put kids behind the wheel of the Mach 5 with R/C vehicles and racing sets. Radica, Mattel's newly acquired games and electronics division, will put the action in the hands of kids through products that let them take the wheel, literally. Additionally, a line of Mattel games and puzzles will capture the film's action through board games, puzzles and a special-edition UNO card game.
Speed Racer products are expected to begin arriving at retailers around the world beginning in late March 2008.
On July 18, 2008, The Dark Knight, the second Batman film from director Christopher Nolan, arrives in theaters. Batman (Christian Bale) raises the stakes in his war on crime in Nolan's The Dark Knight. With the help of Lieutenant Jim Gordon (Gary Oldman) and District Attorney Harvey Dent (Aaron Eckhart), Batman sets out to dismantle the remaining criminal organizations that plague the city streets. The partnership proves to be effective, but they soon find themselves prey to a reign of chaos unleashed by a rising criminal mastermind known to the terrified citizens of Gotham as The Joker (Heath Ledger).
The Dark Knight producer, Charles Roven added: "Batman is an incredible franchise, and we are really excited about taking it to the next level with The Dark Knight. Along with the Batmobile we are introducing a new vehicle, the Batpod, a new Batsuit and some classic characters in The Joker and Harvey Dent. We are confident that fans around the world will enjoy the increased action and the continuation of a great story and we hope they appreciate the integrity and respect we've shown for this iconic character."
For their film-inspired product lines, Mattel will utilize the multiple elements introduced in The Dark Knight. A new Batsuit, a new vehicle in the form of the Batpod and multiple key action scenes that set the stage for inspired play. Mattel's action figure line will feature Batman and the new Batsuit. Tyco R/C vehicles bring to life the speed and action of the Batmobile and the new Batpod. An entire line of action play items will allow boys to role-play being The Dark Knight. Additionally, Mattel will release a line of games and puzzles that will capture the film action through board games, puzzles and a special-edition UNO card game.
Products based on The Dark Knight are expected to begin arriving at retailers around the world beginning in early June 2008.
Warner Bros. Consumer Products represents the merchandising licensing rights related to Batman on behalf of DC Comics.
About Warner Bros. Consumer Products
Warner Bros. Consumer Products, a Warner Bros. Entertainment Company, is one of the leading licensing and retail merchandising organizations in the world.
About Mattel
Mattel, Inc., (NYSE:MAT)(www.mattel.com) is the worldwide leader in the design, manufacture and marketing of toys and family products. The Mattel family is comprised of such best-selling brands as Barbie®, the most popular fashion doll ever introduced, Hot Wheels®, Matchbox®, American Girl®, Radica® and Tyco® R/C, as well as Fisher-Price® brands, including Little People®, Power Wheels® and a wide array of entertainment-inspired toy lines. Mattel is recognized as one of the 100 Most Trustworthy U.S. Companies by Forbes Magazine and is ranked among the 100 Best Corporate Citizens by CRO Magazine. Committed to ethical manufacturing practices, Mattel marks a 10-year milestone in 2007 for its ever-evolving Global Manufacturing Principles and focus on sustainable business practices. With global headquarters in El Segundo, California, Mattel employs more than 30,000 people in 43 countries and territories and sells products in more than 150 nations. Mattel's vision is to be the world's premier toy brands—today and tomorrow.
SPEED RACER: © Warner Bros. Entertainment Inc.
THE DARK KNIGHT and all related characters and elements are trademarks of and © DC Comics.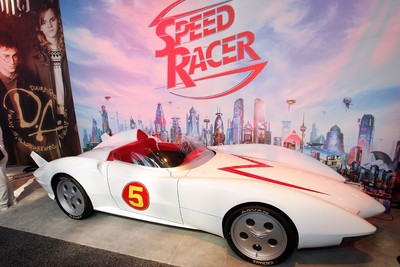 ---