Samurai Shodown II is Now Available for iOS & Android Devices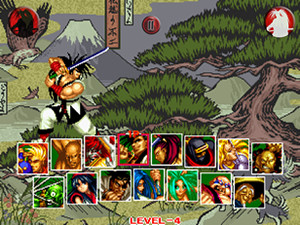 SAMURAI SHODOWN II, the sword-based fighting game masterpiece has finally arrived on mobile devices! Slash all powerful adversaries standing in your path!
SNK PLAYMORE USA CORPORATION (Corporate HQ: Suita-city, Osaka, Japan, Company President & CEO: Masao Ohata) is proud to announce the worldwide release of
SAMURAI SHODOWN II
for iOS and Android devices.
The
SAMURAI SHODOWN
series established the weapon-based fighting game genre, and gained an international reputation with its appealing "one-hit destructive blow" system and its charismatic characters such as samurais and ninjas. Furthermore,
SAMURAI SHODOWN II
, the most acclaimed title by the fans of the series, is finally available for iPhone and Android! This perfect port of the original NEOGEO game includes unique features for an even better game experience.
iOS / Android Version Features:
◆ A Perfect NEOGEO port
A perfect port of this NEOGEO classic, adding new features for an even better experience! In addition to the original 4 button arcade experience, a 6 button layout and SP button allow you to easily pull off strong slashes and special moves by simply using the Touch Screen!
◆ Precise and customizable controls
Configure the size and position of the game buttons, and enjoy every pixel of SAMURAI SHODOWN II with your very own custom controls!Moreover, you can place the buttons outside of the game screen area in "Window Mode".
◆ Challenges friends to intense multiplayer matches via Bluetooth!
Challenge your friends via Bluetooth! Dual with your friends in a match through Bluetooth Multiplayer Mode!
TITLE DETAILS
■ Title : SAMURAI SHODOWN II
■ Release Date: June 27, 2013 (iPhone & Android)
■ Genre: 2D Weapon-based Versus Fighting
■ Requirements: Compatible with iPhone, iPod touch, and iPad (iOS 5.0 and later) & Android 2.3.3 and later
■ Rated: 15+
■ Price: $8.99
■ Marketplace: iOS App Store / Google Play
iOS App Store Download Link:
Download Here
Google Play Download Link:
Download Here
iPhone/Android Ver. SAMURAI SHODOWN II Official Website:
http://mobile.snkplaymoreusa.com/shinsamuraispirits/
SAMURAI SHODOWN Official Website:
http://samuraianiv.snkplaymore.co.jp/
For more information on SNK PLAYMORE USA, please visit
www.SNKPLAYMOREUSA.com
.
About SNK PLAYMORE USA CORPORATION
Headquartered in Osaka, Japan, SNK PLAYMORE CORPORATION (SNK) develops, publishes and distributes interactive entertainment software in Japan, North America, Europe and Asia. Founded in 1978, SNK is one of the largest privately held interactive entertainment content providers in the world. Known for such franchises as THE KING OF FIGHTERS, METAL SLUG, and SAMURAI SHODOWN, SNK continues to be an industry leader by focusing on their rich arcade history. More information on SNK PLAYMORE CORPORATION can be found at
www.snkplaymore.co.jp
.
SNK PLAYMORE USA is a wholly owned subsidiary of SNK PLAYMORE CORPORATION with offices in San Mateo, CA. It handles operations in North America including publishing, marketing, development and localization. More information on SNK PLAYMORE USA can be found at
www.snkplaymoreusa.com
.
About NEOGEO
In 1990, SNK (Currently SNK PLAYMORE) developed and sold arcade games and a console that could play these high-quality titles at home: the NEOGEO. The specs for both the MVS"Arcade" and the AES "Home" systems were the same, making them playable even in fans' living room. It was also the first console offering a memory card allowing users to save progress at home, and for use at the arcade as well!
Copyright Information:
© SNK PLAYMORE
*"SAMURAI SHODOWN" is a registered trademark of SNK PLAYMORE CORPORATION.
*All other company and product names used herein are trademarks or registered trademarks of their respective owners.
---
discuss this in the forum (1 post)
|