Space Dandy Season 2 to Simulcast Same-Time-As-Japan Across Asia on Animax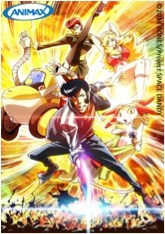 Singapore, 21 June 2014 – Space Dandy is back! In the second season, expect a whole lot more aliens, adventures and hilarious space comedy from Dandy and his entourage.

Fans of the retro-futuristic, sci-fi comedy in Asia will be able to catch the exciting new season exclusively on Animax at the same time as Japan. Space Dandy follows the madcap adventures of a carefree space explorer and his two sidekicks – a rundown robot named QT and Meow the cat-looking space alien, as they travel the galaxy in search of new aliens. Each new species that Dandy discovers earns him a hefty reward but he has to be quick on his feet because it's first come – first served!

Viewers can also catch up on the first season before the new series premiere with the Space Dandy Season 1 (Marathon Special) on Saturday, 5 July from 8.30pm to 2.30am (SG, MY, HK, PH, TW) / 7.30pm to 1.30am (JKT, BKK).

The dazzling anime is directed by Shingo Natsume (Fullmetal Alchemist: The Sacred Star of Milos) with Shinichiro Watanabe (Cowboy Bebop) serving as general director, and produced by Tokyo based anime studio, BONES Inc.

Add a touch of glitz to the usual anime fix and join the best dressed alien hunter for an adventure in all of space and time on Animax!

Space Dandy Season 2 premieres on 6 July, airing on Sundays at 10pm (SG, MY, HK, PH, TW) / 9pm (JKT, BKK) in a same-time-as-Japan simulcast, first and exclusively on Animax.

About Animax Asia
Launched on 1 January 2004, Animax is Asia's first channel brand specializing in Japanese animation – anime. Animax offers a wide variety of anime programs from across the most popular genres including action, romance, horror, supernatural, sci-fi, comedy and slice-of-life. Animax is home to some of the biggest anime titles in the world that enjoy great following across the region. In addition, the channel created TV history in April 2009 by becoming the world's first regional broadcaster to air an anime series at the same time as Japan and followed that with six other simulcast anime series. Currently reaching 40 million viewers in 46 million homes across 17 markets in Asia, Animax aims to offer anime programming for everyone. Beyond television screens, Animax also actively engages its audiences at local events, including its signature Animax Carnival that has rolled out in Malaysia, the Philippines, and Taiwan. See http://www.animax-asia.com/ for more.
---