Cheer Boys!!
Episode 7
by Lauren Orsini,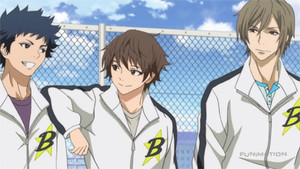 Oof, what a tense and emotional episode of Cheer Boys!! Just when our main seven seem to have resolved their emotional baggage, the nine new members pile on plenty of their own. This episode keeps the story breathable by focusing in on just one newbie, Hisashi, and the way he interacts (or doesn't) with everyone else. Despite badly drawn faces and the usual meh animation quality, Cheer Boys!! sets a mood that unsettles and upsets.
Sho has gotten over his own neuroses enough to be a base again. Now the team has enough participants to perform four tandem stunts, illustrated by Sho's awful drawings—made increasingly painful by the fact that just like the exaggerated faces on his figures are constantly shifting and melting, so are the cheerleaders' faces in every other shot. Corners are cut whenever possible. The Christmas party preparations are depicted in still images; heck, even the breakdancers' routine video is shown as a still image. Combined with the sixth week recap episode, it's pretty apparent that Cheer Boys!! is being produced behind schedule and will probably undergo some serious upgrades before its DVD release.
The story, however, leaves little to complain about. It continues to balance sixteen main characters very well, by developing them in contrast to one another. This week, it's all about Hisashi, the team's extremely serious wet blanket. Hisashi's severe attitude comes from his dedication to cheerleading—and it's laudable that he's no hypocrite, simply holding the team to the same standards he sets for himself. However, the "strain" of this episode's title comes from Hisashi's abrasive, accusatory attitude toward his teammates for even reasonable infractions, like coming to practice a little late because they were speaking to their professor. Sometimes it's easy to sympathize with this guy, who only wants what's best for the team, but other times he goes too far and has everyone walking on their tiptoes. The result is a tense, uncertain episode where it's never clear what's going to set Hisashi off. "Every time Hisashi opens his mouth, my heart stops," says Haru, which made me realize I felt the same way.
Even when focused on just one cheerleader, the show never misses a moment to show off other characters' personalities, mainly in the way they respond to Hisashi. Kazu's ability to diffuse the situation with small concessions ("What's my fine?" etc.) solidifies his role as a great captain. Of course, Wataru attempts to distract everyone with humor, and he's not above putting on a ridiculous bunny girl costume. Ton frets, Sakuma cries, and Takeru "Broccoli" Ando gets mad. The breakdancer sect is just plain nice to Hisashi—and it's funny to see how uncomfortable that makes him. Introducing a volatile member to this team shows us how each member reacts when worried or stressed out. This uncertain mood continues even into the Christmas party in the second half of the episode, where an apology complete with bowing makes a temporary truce between Hisashi and Ando that we just know isn't going to last. Even the conclusion of the episode isn't enough to bring us relief—Hisashi's future with the Breakers is still up in the air.
It's more than a bit disappointing that a show with such kinetic potential has so little visual motion. However, the movement of the plot is enough to keep me watching. In just two episodes, I've gone from seeing the show's sixteen main characters as background noise to seeing them as sixteen dynamic, interesting reasons to tune in each week.
Rating: B-
Cheer Boys!! is currently streaming on Funimation.
Lauren writes about geek careers at Otaku Journalist
---
discuss this in the forum (54 posts)
|
back to Cheer Boys!!
Episode Review homepage / archives