×
remind me tomorrow
remind me next week
never remind me
Subscribe to the ANN Newsletter • Wake up every Sunday to a curated list of ANN's most interesting posts of the week.
read more
Anime Spotlight - The Ancient Magus' Bride
by ANN Staff,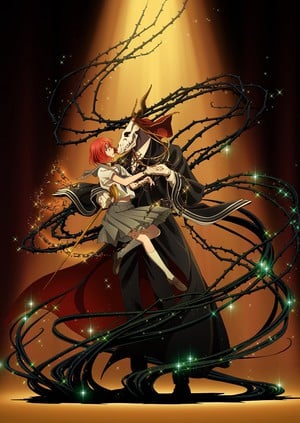 Premiere Date: October 8, 2017
Streaming available at: Crunchyroll


Key Staff
Introduction
This gentle, cruel, beloved world is alive right in front of us. The intermingling of humans and non-humans. Wondrous sights that would make one gasp. A world that is sometimes cruel, but somehow still warm. The inner workings of the hearts of the people who live there.
This manga has been the buzz amongst manga-lovers and fantasy-lovers since its serialization began, and it won multiple awards in 2015. The Ancient Magus' Bride (Mahotsukai no Yome) has sold over 4.5 million copies. It was first adapted into an anime in 2016 as The Ancient Magus' Bride: Those Awaiting a Star, which was split into three parts and bundled with special editions of the sixth, seventh, and eighth volumes of the manga in Japan. Now, it will be adapted into a television anime beginning in October 2017.
WIT STUDIO, the animation studio that helmed such hits as Attack on Titan and Kabaneri of the Iron Fortress, will be animating the series. Their high-quality and emotional animation continues to express the fantastical air of the original work. The anime will air from fall 2017 to winter 2018 for a total of two seasons.
Story
Chise is a 15-year-old girl. She has no place to return home to, no reason to live, no way to live. She has nothing... Except for one special power she was born with. An odd-looking magus named Elias takes in Chise as his apprentice, planning to eventually make her his wife. She naturally starts getting closer to the magus who will live for eternity as she spends time with him, and begins to get back something important to her a little bit at a time...
Characters
Chise Hatori

Voice: Atsumi Tanezaki

"If you say I can do it, Elias, then I'll do it."

A Japanese girl who is a Slay Vega--a person with the ability to create an almost-limitless source of power. This power unconsciously draws fairies to her. Elias took notice of this ability, and purchased her for five million pounds (about US$6.36 million). She begins studying magic while living in Elias' mansion located on the outskirts of England.

Elias Ainsworth

Voice: Ryōta Takeuchi

"I've made my mind. I will make you my apprentice."

One of the very last "real" magi left in existence. He bought Chise in order to raise her as his apprentice, and eventually to become his bride. Spell-casters and magi are revered by the inhabitants of the world, but Elias has continuiosly avoided contact with others due to his hatred of being around people. He is sometimes called "Thorn Sorcerer" and "Liath Anam."

Ruth

Voice: Koki Uchiyama

"My ears, my nose, my eyes, my hands and feet... I'll give them all to you."

A young man who met Chise at the graveyard of a church. His true form is that of a black grim dog who protects the church and the graves. After spending time with Chise, he makes a certain decision.

Sikly

Voice: Aya Endo

"I shall continue to protect my home and its light."

A brownie that lives in Elias' mansion. She does everything from laundry to cleaning to watching over the fire to darning. She's a great helper to the house, as she takes on all the housework all by herself. She's fairly reserved, but gets excited when she gets to see Chise.

Angelica Varley

Voice: Yuko Kaida

A witch who is a technician of the Magus Craft. She runs a workshop that works with magical tools. Elias has been involved with the Barley family since Angelica's father's generation, so there is no need for formalities between them. She has a husband named David, and together, they have a daughter named Althea.

Simon Callum

Voice: Toshiyuki Morikawa

A priest in the village Chise and Elias live. Because quite a while has passed since he was dispatched by the church to keep an eye on Elias, he gets along quite well with his target. He is a fan of the cough medicine Elias makes.

Seth Noel

Voice: Junichi Suwabe

A person involved in the Black Market that is used by magi and wizards and witches. He served as her middleman when Chise put herself up for auction of her own free will. It's also thanks to him that she can speak English. He has a younger sister who is the same age as Chise.

Lindel

Voice: Daisuke Namikawa

A magus who is the caretaker of the Land of Dragons far in the north, and Elias' master. He takes on the form of a beautiful young man, but in fact, he is far older than even Elias. Lindel loves playing tricks on people. He is also called "Echoes."

Mikhail Renfred

Voice: Satoshi Hino

A wizard who gets his power using different methods from magi. He has a deep grudge against Elias, and has no positive feelings when it comes to magi. He lost his arm in a certain incident.

Alice

Voice: Mutsumi Tamura

Renfred's apprentice who was taken in by him. She is strong-minded, but due to various circumstances, she feels something even stronger than gratitude to Renfred, and is therefore absolutely loyal to him. She won't hesitate to use violence if it's for the sake of her master.

Titania

Voice: Sayaka Ohara

The Queen of the Faeries who rules over Tír na nÓg. She has existed far before Christianity began to spread in the British isles, and continues to do so. All the creatures of the night are her beloved children. She sometimes gets annoyed with her over-zealous husband.

Oberon

Voice: Kappei Yamaguchi

The King of the Faeries who rules over Tír na nÓg and Titania's husband. Completely uninhibited, nothing holds him down, but it appears that he dearly loves his wife. There are sometimes sage-like words that give him the esteemed air of a king amongst the never-ending nonsense he spews.

Cartaphilus

Voice: Ayumu Murase

Although Cartaphilus looks like just a child, he is what the magi call the "Wandering Jew." No one knows his true form or motives. He merely acts according to his whimsy.
Cast
Chise Hatori

Atsumi Tanezaki

Elias

Ryōta Takeuchi

Ruth

Koki Uchiyama

Silky

Aya Endo

Angelica Varley

Yuko Kaida

Simon Callum

Toshiyuki Morikawa

Seth Noel

Junichi Suwabe

Lindel

Daisuke Namikawa

Mikhail Renfred

Satoshi Hino

Alice

Mutsumi Tamura

Titania

Sayaka Ohara

Oberon

Kappei Yamaguchi

Cartaphilus

Ayumu Murase
Staff
Original Creator

Kore Yamazaki (published by Mag Garden)

Series Composition/Director

Norihiro Naganuma

Scripts

Character Design

Color Design

Art Director

Director of Photography

CGI Director

Shinya Sugai

2D Work

Special Effects Supervisor

Special Effects

Editor

Music

Music Production

Music Production Assistance

Opening Theme Song

"Here" by JUNNA

Ending Theme Song

"Wa –cycle-" (Ring –cycle-) by Hana Itoki

Sound Effects

Sound Production

Animation Production

WIT STUDIO

Production

The Ancient Magus' Bride Production Committee




©2017 Kore Yamazaki/Mag Garden・Mahoyome Partners
---
discuss this in the forum (11 posts)
|