×
remind me tomorrow
remind me next week
never remind me
ANN Reader Survey • If you haven't had a chance yet, please fill out our annual survey, It's so helpful to us. As a thank you for filling out this massive survey, we're giving away 100 ANN subscriptions to people who fill it out.
read more
×
remind me tomorrow
remind me next week
never remind me
Subscribe to the ANN Newsletter • Wake up every Sunday to a curated list of ANN's most interesting posts of the week.
read more
Anime Spotlight - IDOLiSH7
by ANN Staff,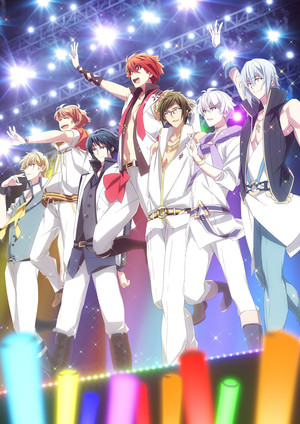 Premiere Date: January 1st, 2018

Key Staff
Director: Makoto Bessho

("Star Blazers 2199 (TV)" as Episode Director (4 episodes), "Beautiful Bones -Sakurako's Investigation- (TV)" as Episode Director (eps 2, 12))

Series Composition: Ayumi Sekine

("Ramen Daisuki Koizumi-san (TV)" as Scenario, "Baka and Test - Summon the Beasts 2 (TV)" as Script (eps 3, 11-13))













Story
This is the story of greenhorn idols with their futures ahead of them that have been gathered together by "Takanashi Production." These seven men have just met, and each have completely different personalities and abilities. However, they each have their own unique sparkle and untapped potential as an idol. As their first step as idols, they form the idol group "IDOLiSH7." These boys dancing on a shining stage entrance the hearts of those watching. With dreams in their hearts, these young men aim for the top in the beautiful, yet sometimes harsh world of idols!
Character Names & Descriptions & Seiyuu
IDOLiSH7

Iori Izumi

Voice: Toshiki Masuda
Age: 17

A cool young man with a brilliant mind. Calm and polite, he is able to complete any task flawlessly, but is actually fairly sharp-tongued when he talks. Mitsuki's brother.

Yamato Nikaido

Voice: Yusuke Shirai
Age: 22

The eldest member of the group who is something of a big brother figure to the other members. Although he appears to have an aloof personality, he is in fact very passionate on the inside, and thinks about the other members of the group more than anyone else.

Mitsuki Izumi

Voice: Tsubasa Yonaga
Age: 21

The energetic member of the group who always sets the mood. Despite his cute exterior, he has a chivalrous spirit and is good at taking care of others. Iori's older brother.

Voice: KENN
Age: 17

Tamaki is a slovenly genius, but has great reflexes and his dancing is at a professional level. He moves at his own pace, and is just a little bit loose when it comes to being on time and keeping promises.

Sogo Osaka

Voice: Atsushi Abe
Age: 20

A nice young man who is earnest and caring. He's able to handle any song and/or dance with no problem. He is kind and gentle to anyone and everyone, but is very scary when angered.

Nagi Rokuya

Voice: Takuya Eguchi
Age: 19

A young man with half Japanese and half Northern European blood running through his veins, he has natural charisma and good looks. He has a habit of immediately hitting on any girl he sees. His love of women is only challenged by his love of Japanese animation.

Riku Nanase

Voice: Kensho Ono
Age: 18

A hard-working young man with stellar singing talent and an honest personality. He's a bit of a push-over who can't refuse someone when they ask something of him, and he's kind of naive when it comes to the real world.

TRIGGER

Gaku Yaotome

Voice: Wataru Hatano
Age: 22

A young man so popular that he was chosen as "Number One Man I'd Want to Hold Me Tight" by the public. He's very competitive and isn't very nice when he talks, but is in fact cordial and caring when it comes to his teammates.

Tenn Kujo

Voice: Sōma Saitō
Age: 18

He appears to have the personality of a prankster, but he's actually a perfectionist with a high level of professionalism. He strives to be perfect as an idol.

Ryunosuke Tsunashi

Voice: Takuya Satō
Age: 23

His sexiness and wild attitude are his selling point, but he's actually very shy and gentle. The gap between his image and his true self often makes him worry.

Takanashi Production

Otoharu Takanashi

Voice: Susumu Chiba

The president of the agency that IDOLiSH7 are a part of. He's kind of spacey, but is very sincere when it comes to work. He watches over the new members of his agency.

Banri Ogami

Voice: Kazuyuki Okitsu

A talented staff member who keeps the agency running. A very reliable man, he supports the members of IDOLiSH7 and Tsumugi, their new manager.

Tsumugi Takanashi

Voice: Satomi Sato

Otoharu's one and only daughter. She ends up being given the position of IDOLiSH7's manager, and works hard to try and sell them. She's a strong girl who is positive no matter what comes her way.
Cast
【IDOLiSH7】

Iori Izumi

Toshiki Masuda

Yamato Nikaido

Yusuke Shirai

Mitsuki Izumi

Tsubasa Yonaga

Tamaki Yotsuba

KENN

Sogo Osaka

Atsushi Abe

Nagi Rokuya

Takuya Eguchi

Riku Nanase

Kensho Ono
【TRIGGER】

Gaku Yaotome

Wataru Hatano

Tenn Kujo

Sōma Saitō

Ryunosuke Tsunashi

Takuya Satō
【Takanashi Production】

Otoharu Takanashi

Susumu Chiba

Banri Ogami

Kazuyuki Okitsu

Tsumugi Takanashi

Satomi Sato
【Yaotome Production】

Sosuke Yaotome

Kaoru Anesagi




© BNOI/IDOLiSH7 PROJECT
---