×
remind me tomorrow
remind me next week
never remind me
Subscribe to the ANN Newsletter • Wake up every Sunday to a curated list of ANN's most interesting posts of the week.
read more
Japan Expo 2012
by Rebecca Silverman,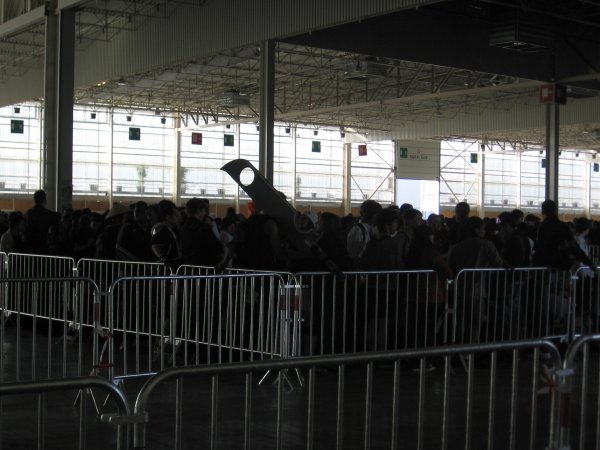 Japan Expo (JE), is the world's largest anime and manga convention outside of Japan. Taking place just outside of Paris, it covers 120,000 square meters or roughly 1.3 million square feet, and will draw over 150,000 unique attendees by the end of the weekend. Most are French, but others come from Belgium, Germany, Spain, and Japan, to name just a few. Exhibitors and vendors come from both France and Japan.

Japan Expo's major differences from American cons stem from two areas. The first is that this is a for profit event and is staffed by only 250 paid employees - no volunteers are allowed by French law. Secondly, and perhaps more importantly, rather than simply focussing on Japanese popular culture, there is also a focus on traditional culture, and JE strives to promote a multi- faceted appreciation of Japan that will linger even if the otaku phase passes. This is a hefty factor in JE's continued success, and this year's convention features not only jpop, cosplay, and fashion, but also classical music, armor smithing, and tales from the Kojiki, a collection of Shinto myths and legends. JE's management strives to avoid focusing on any single theme so that they can remain true to their all-inclusive vision of what fandom should be, so come with me and my poorly timed sprained ankle as I limp through 13,000 km of aluminum barriers and slowly explore Europe's biggest otaku gathering.

Japan Expo Day 1
Momoiro Clover Z Concert
Japan Expo Awards
Japan Expo Day 2
Cosplay Photo Gallery
Naoki Urasawa Manga Gallery
Japan Expo Day 3
Kyari Pamyu Pamyu Concert
Day 4
Kojiki 1300
Hemenway featuring Naoki Urasawa
The Exhibit Hall

Japan Expo uses a hall the size of AX's main exhibit hall just for line management and to
keep waiting attendees out of the hot sun or rain.
---
discuss this in the forum (4 posts)
|
this article has been modified since it was originally posted; see change history