Interest

Fans Plan Hetalia Axis Powers Day in October

posted on by Gia Manry
2nd annual unofficial celebration to take place in 18 countries
---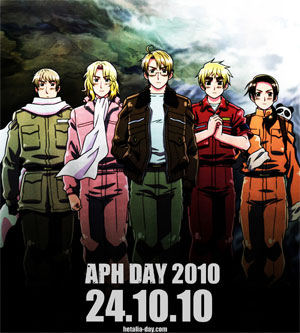 Fans of Hidekaz Himaruya's web manga Hetalia - Axis Powers and its anime adaptation are preparing for "Axis Powers Hetalia Day," set to take place on October 24. The event consists of meetups which typically involve cosplaying, photoshoots, roleplaying, and other Hetalia-specific activities.
2010's event will be the second occurrence of the unofficial Hetalia day. In 2009, the event consisted of meetups in 16 countries, including the United States, Canada, Finland, Germany, Venezuela, Malaysia, and Chile. There are currently 70 meetups planned in 18 countries for the 2010 festivities.
In 2003, Hidekaz Himaruya launched the Hetalia - Axis Powers web manga about World War II countries personified as (mostly) young male manga characters. A television anime was announced in 2008, but the broadcast was cancelled amid protests from South Koreans who disliked the depiction of their nation. The anime ran on the Internet instead. Funimation and Tokyopop acquired the North American licenses to the anime and manga, respectively, this year.
---