Interest

Nami's Mikan Oranges From One Piece Manga Sold in Real Life

posted on by Egan Loo
"Nami's Mikan ~Premium~" arrives in Japanese supermarkets in October
---

Nami's prized mikan oranges, as seen in Eiichiro Oda's One Piece manga and anime, will actually be sold in Japanese supermarkets and department stores in October. A farm from Japan's Kumamoto Prefecture is offering these official One Piece mikan. "Nami's Mikan ~Premium~" stand out from other mikan oranges with their sweetness — they have a sugar content of 12 percent or more.

The official website for the oranges already began taking pre-orders on Friday. A set of five will go for 1,050 yen (about US$13), 10 to 12 will go for 3,150 yen (US$40), and 30 to 32 will go for 6,300 yen (US$80). Naturally, each set comes in a package with a different, brand-new anime illustration of Nami, the Straw Hat Pirates, and Nami's mikan trees aboard the Thousand Sunny ship.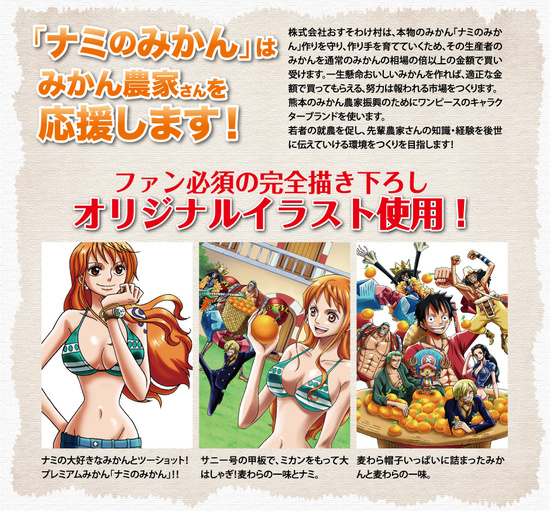 Not incidentally, the two-hour One Piece Episode of Nami: Kōkaishi no Namida to Nakama no Kizuna special will premiere in Japan on Saturday.


Source: Comic Natalie
Images © Eiichiro Oda/Shueisha, Fuji TV, Toei Animation
Update: Number of mikan in medium set corrected. Thanks, d_ace_shines.
---