Interest

Enter Photo Contest to Have Your Cat Featured in Makoto Ojiro Manga

posted on by Amanda Whalen
Makoto Ojiro's manga Neko no O-tera no Chion-san (Chion of the Cat Temple) is celebrating the release of its fourth volume with a chance for fans to have their cats appear in manga form.
There will be two grand prize winning "most appealing" cats. One will appear in the series' fourth manga volume, which will be released on June 30, and the other will appear in manga form in the July 3 issue of the Big Comics Spirits magazine. There will also be various other prizes, including an "Illustration Prize," "Comics Cover Prize," and "PETomorrow Prize." Photos of all of the cats entered are planned to be published in the July 3 issue of Big Comics Spirits.


Entries will be accepted from April 24 to May 15. Fans can enter by filling out an online form, or by uploading a photo of their cat to Instagram or Twitter with their name, their cat's name, and #猫のお寺の知恩さんフォトコンテスト.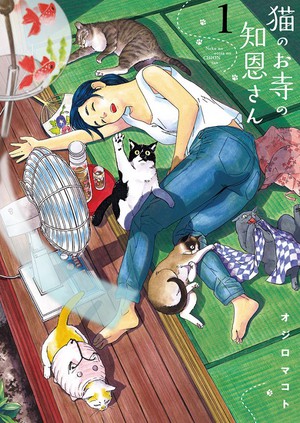 Neko no O-tera no Chion-san is a romantic comedy about a high school boy named Gen and an older girl, Chion, who is living at his family's temple in the countryside. It features a cast of highly realistic cats and is published by Shogakukan. It has not yet been released in English.
Manga authors often express their love for felines in their own manga. Kodansha's Morning Two magazine released a cat-centric issue earlier this year as did Big Comic Spirits. Cat characters even have their own magazine, Nyankomedia. If you're looking for cat manga available in English, you can check out She and Her Cat based on the work by Makoto Shinkai, Kanata Konami's Chi's Sweet Home and FukuFuku: Kitten Tales, or Junji Ito's Cat Diary: Yon & Mu.
Source: Natalie Comics
---