News

Oshii's Sky Crawlers Already Running in Los Angeles

posted on by Gage
Animated war romance film's official New York premiere to take place on Friday
---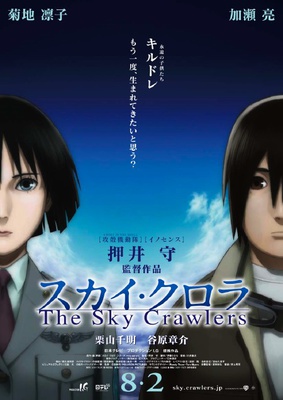 Los Feliz 3 Cinemas, a theater in northern Los Angeles just east of Hollywood, has been already screening Mamoru Oshii's The Sky Crawlers film since December 5 — a full week before the official New York premiere this Friday. For his first anime film since 2004's Ghost in the Shell sequel Innocence, Oshii adapted Hiroshi Mori's popular war romance novel series. The Los Angeles screenings will continue until December 11, and the Examiner.com website has already posted a review of the film.
The Sky Crawlers film has been submitted for one of the three possible nomination slots in the Best Animated Feature category of the Academy of Motion Picture Arts and Sciences' Oscars awards. However, the Oscar rules dictate that eligible films must play "for paid admission in a commercial motion picture theater in Los Angeles County" for at least seven consecutive days by December 31 of a given year.
The film's American distributor Sony Pictures is co-hosting the New York premiere with Stage 6 Films, Production I.G, New York–Tokyo, and the Film Society of Lincoln Center. The film will be shown twice on December 12 at 7:00 p.m. and 9:30 p.m. with a special video introduction by Oshii. The film received its world premiere at the 65th Venice Film Festival. It was nominated for the Golden Lion and eventually won a Future Film Festival Digital Award at the festival. It also won the Jose Luis Guarner Critic Award and the Carnet Jove Jury's award for the best motion picture for a youth audience at the Sitges film festival in October. Its score by Kenji Kawai won an additional Sitges award for best original soundtrack.
Source: animeanime.jp
---