News

Japanese Teen Arrested for Distributing Manga Online

posted on by Egan Loo
18-year-old male allegedly posted 3,800 volumes, earned 270,000 yen in ads
---



On Saturday, police arrested an 18-year-old male student from Katagami City in the northern Japanese prefecture of Akita for allegedly posting manga online. According to the authorities, the suspect said he downloaded the manga from the Internet and wanted to make a site for the manga.
According to the police's High-Tech Crime Joint Task Center, the suspect used his home computer to save the 11th Nura: Rise of the Yokai Clan (Nurarihyon no Mago) volume, the 14th Sket Dance volume, and the eighth Eden no Ori volume onto the servers of an online storage service, Megaupload. He then allegedly distributed these manga titles for free downloads from August 15 to September 3 of last year, in violation of the Copyright Law of Japan.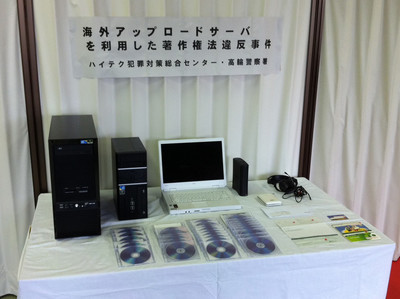 The suspect opened his "Manga.jp" blog last March, and he received download requests for manga from readers on a forum. Including the three titles he was initially charged with distributing, he allegedly made 3,800 files from about 260 titles available to the public. With 2.5 million hits so far, the suspect reportedly received 270,000 yen (about US$3,300) in advertising revenue.
During a search of the suspect's home on the day of his arrest, police confiscated 26 items including personal computers, hard drives, and his bankbook.
Source: Asahi (link 2), Yomiuri
Update: Updated information and image added, plus additional information from the Association of Copyright for Computer Software.
---