News

UK's Anime Limited Adds Makoto Shinkai Works, 'Traveling Daru'

posted on

2013-03-01

10:13 EST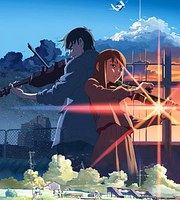 British distributor Anime Limited announced that it will release Makoto Shinkai's The Place Promised in Our Early Days and Voices of a Distant Star on Blu-ray Disc and DVD. The company's release will include the short "Tabi Suru Nuigurumi ~Traveling 'Daru'~" by Ushio Tazawa (Senyū.).
The company is also working on a British theatrical release of Kenji Kamiyama's 009 RE:CYBORG film.
---
bookmark/share with: