News

Anime Expo to Host Producer Nobuhiro Kikuchi, Director Kazuchika Kise

posted on

2013-06-06

16:45 EDT
Angel Beats! producer, Ghost in the Shell Arise director to attend LA convention in July
---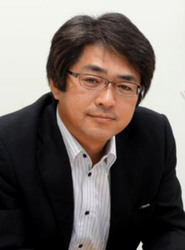 Anime Expo announced on Wednesday and Thursday that producer Nobuhiro Kikuchi and director Kazuchika Kise will be joining the guest line-up for the July 4-7 event in Los Angeles, California.
As a member of P.A. Works, Kikuchi has served as the managing director for Angel Beats! and CANAAN, and as a member of the production committee of Red Data Girl, Another, and Hanasaku Iroha ~ Blossoms for Tomorrow ~. In addition, he is a member of the executive committee at the "Bonbori Festival," an annual event inspired by Hanasaku Iroha. Kikuchi's works are often inspired by Japanese landmarks, and he also participates in local revitalization efforts to promote and preserve these landmarks.
Kise debuted in the anime industry as a key animation supervisor for Red Photon Zillion. He has worked as a key animator on Ghost in the Shell and for The Vision of Escaflowne, and as an animation director for Blood-C, Blood+, and Blood: The Last Vampire, as well as Evangelion 1.0 You Are (Not) Alone, Patlabor 2, and Neon Genesis Evangelion. Kise is designing the characters and making his directorial debut with the upcoming Ghost in the Shell arise video anime series.
Previously-announced guests of Anime Expo include J-Rock band Porno Graffiti, Attack on Titan producer George Wada, Kick-Heart director Masaaki Yuasa, voice actress Megumi Han, animation director and character designer Keigo Sasaki, voice actor Kazuhiko Inoue, screenwriter Mari Okada, character designer Noizi Ito, visual kei musical acts Kaya and Moon Stream, and director Kazuhiro Furuhashi. Host Danny Choo, DJ RAM RIDER, cosplayer Alodia Gosiengfiao, and voice actors Eric Vale, Christopher R. Sabat, Kyle Hebert, and Johnny Yong Bosch will also attend.
---