News

2015 Doraemon Film is Nobita no Space Heroes Uchū Eiyū-ki

posted on by Sarah Nelkin
Doraemon
's group turn into space heroes to fight monsters for upcoming film
---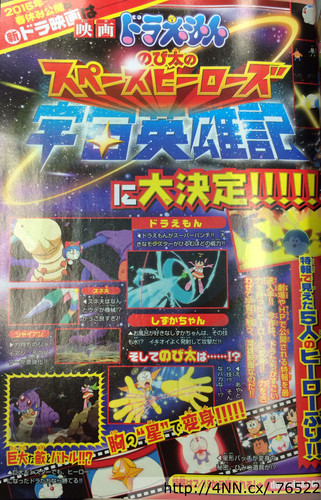 The August issue of
Shogakukan
's Monthly Coro Coro Comic magazine is announcing on Tuesday that the title of the 2015
Doraemon
feature film will be titled
Doraemon: Nobita no Space Heroes
Uchū Eiyū-ki (Doraemon: Nobita's Space Hero Record of Space Heroes).
The film will feature Doraemon, Nobita, Shizuka, Gian, and Suneo as heroes in space that fight against monsters. Doraemon has the power of a super punch, Nobita can use a cat's cradle move, the bath-loving Shizuka can control water, Gian has super strength, and Suneo has a drill on his arm.
A trailer for the film will be unveiled at the project's official website on July 19.
The previous film in the franchise titled Doraemon Shin Nobita no Daimakyo ~Peko to 5-nin no Tankentai~ premiered in March. The English broadcast of the Doraemon television anime premiered on Disney XD on Monday.
---