News

Hyperdimension Neptunia Victory II's Gameplay Video Streamed

posted on by Karen Ressler
PS4 game ships April 23 in Japan
---
PlayStation Japan began streaming a gameplay video for Compile Heart's PlayStation 4 game Hyperdimension Neptunia Victory II (Shin Jigen Game Neptune VII) on Thursday. The video demonstrates battle and field exploration, with a focus on losing lives.
Compile Heart revealed previously revealed new characters who call themselves "Gold Third," and they each can change into a "Gold Form."

S-sha (voiced by Maaya Uchida)
The magazine describes her as follows:
"A cool beauty who is apathetic to everything and always says 'I have no interest in this.' In her past she failed miserably at making a movie and almost died."


B-sha (voiced by Ayana Taketatsu)
"A girl who likes toys and heroes, but above all she loves money. At every opportunity she bills others and demands a small amount of money."


K-sha (voiced by Rina Hidaka)
"A young woman who goes to the all-girls school 'Lastation.' Musical appreciation and music performances are her hobby, and her personality switches to one of a veteran soldier who uses small weapons."


C-sha (voiced by Haruka Tomatsu)
"Her personality is like that of the leader of Gold Third. Despite her appearance she is a glutton, and it seems that when she is hungry she cannot use her powers."

Naoko Mizuno, director Shingo Onodera, and character designer Tsunako will return to the development team for the newest installment in the Neptunia franchise. The game will feature three dimensions and three different stories: "Rei-jigen Neptune Z" (Zero-Dimension Neptune Z) where Neptune and Nepgear lose their way in Zero Dimension and fight alongside the new character Uzume Ten'ōsei/Orange Heart (pictured below); "Chō-jigen Neptune G" (Hyperdimension Neptune G) where Neptune and her friends live in the Gamindustri world; and "Shin-jigen Neptune H" (Heart Dimension Neptune H), a mysterious dimension.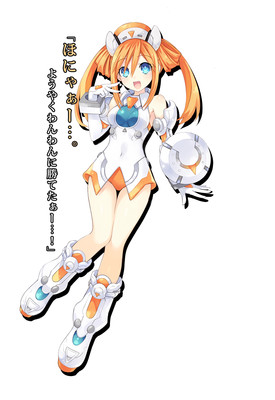 The role-playing game will ship in Japan on April 23. The regular edition will retail for 7,538 yen (about US$64), and the Dream Edition, which includes a situation CD and the game's soundtrack with opening and ending themes, will retail for 10,778 yen (US$91). A downloadable version will retail for 6,480 yen (US$55).
Nao will perform the game's opening theme song "Sōtaisei Vision" (Relativity Vision). Chiyomaru Shikura (Steins;Gate, Robotics;Notes) wrote the lyrics and composed the song with arrangement by MACARONI☆. Ayane will perform the game's ending theme song "Mirai e no Resolve" (Resolve Toward the Future). Ayane wrote the lyrics, while Heigo Tani (Wall 5) and Nobuki Miyahara composed the song. Nobuki Miyahara also arranged the song.
Idea Factory International released Hyperdimension Neptunia Re;Birth2 for the PlayStation Vita in North America on January 27 in physical and digital formats. The company released Hyperdimension Neptunia Re;Birth1 in retail stores and digitally in North America last August, and the spinoff game Hyperdevotion Noire: Goddess Black Heart in North America on February 24. NIS America released Hyperdimension Neptunia: Producing Perfection (Kami Jigen Idol Neptune PP) for the PlayStation Vita last June in North America and Europe.
Images © Idea Factory/Compile Heart
---