News

One-Punch Man TV Anime Casts Saori Hayami, Mamoru Miyano

posted on by Rafael Antonio Pineda
---

The combined 36th and 37th issue of Shueisha's Young Jump magazine is announcing details for the One-Punch Man television anime's cast and theme songs on Thursday.
The anime has cast Saori Hayami as Blizzard of Hell (Jigoku no Fubuki), and Mamoru Miyano as Sweet Mask (Amai Mask). In addition, the magazine notes that JAM Project is performing the anime's opening theme, and Hiroko Moriguchi is performing the ending theme. The opening theme's CD single is slated for an October 21 release, and the ending theme's CD single is slated for a November 18 release.
The anime will receive a preview screening at the Saitama City Cultural Center on September 6. Makoto Furukawa (Saitama), Kaito Ishikawa (Genos), Yuuki Kaji (Speed of Sound Sonic), and Aoi Yūki (Tornado of Terror) will attend the screening. The announcement did not specify how many episodes of the anime will be shown in the screening.
The magazine also revealed that the manga will receive a trading card game titled One-Punch Man Hacha Mecha, which will debut in November. More details about the game will be announced in Shueisha's Tonari no Young Jump spinoff website at a later date.
The anime will premiere in October on TV Tokyo and other channels, and will stream online on NicoNico.
The original manga's story revolves around the titular super hero who has trained so hard that his hair has fallen out, and who can overcome any enemy with one punch. However, because he is so strong, he has become bored and frustrated with winning all his battles so easily.
The anime's official website began streaming a promotional video for the series on Saturday, introducing some of the series' characters.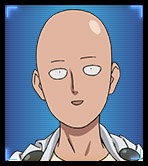 Makoto Furukawa (Aldnoah Zero's Shigou Kakei, Golden Time's Banri Tada) as Saitama
A man who underwent special training for three years and gained unrivaled powers. He took up being a hero as a hobby.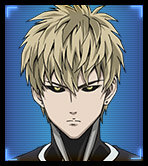 Kaito Ishikawa (Gargantia on the Verdurous Planet's Ledo, Haikyu!!'s Tobio Kageyama) as Genos
A young man who is a cyborg. He admires Saitama and becomes his apprentice.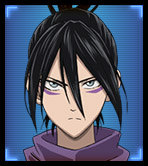 Yuuki Kaji (Attack on Titan's Eren, World Trigger's Osamu Mikumo) as Speed of Sound Sonic (Onsoku no Sonic)
A self-proclaimed "strongest ninja" who takes on any jobs from assassination to being a bodyguard. He persistently continues to pursue Saitama.


Aoi Yūki (Madoka Magica's Madoka, Sword Art Online II's Yuuki) as Tornado of Terror (Senritsu no Tatsumaki)
An S-class rank 2 hero. She is an esper who brings down her enemies with supernatural attacks. Her outward appearance is that of a little girl but she is in fact an adult.
Yūichi Nakamura (Fairy Tail's Grey, Valvrave the Liberator's Raizō Yamada) as License-less Rider (not pictured), the hero with the heart of true justice
The other cast members include:
Kazuhiro Yamaji (Psycho-Pass' Jouji Saiga, Final Fantasy VII: Advent Children's Cid) as Silver Fang
Hiroki Yasumoto (Yowamushi Pedal's Kinjō, Fairy Tail's Elfman) as King
Takahiro Sakurai (Magi's Ja'far, Tokyo Ghoul's Uta) as Zombieman
Katsuyuki Konishi (Hetalia's America, Fairy Tail's Laxus) as Tanktop Master
Yuusuke Murata's manga series adapts ONE's original web manga of the same name. Murata's manga is currently running on Shueisha's free Tonari no Young Jump spinoff website. The series passed the 2.2-million mark in November 2013, the 3.4-million mark in May 2014, and the 4.5-million mark in November. Shueisha published the eighth compiled volume on April 3, and will publish the ninth volume on Tuesday. A special edition of the ninth volume will include a drama CD.
One-Punch Man is currently serialized in Viz Media's English-language digital edition of Weekly Shonen Jump. Viz will release the first two volumes in print this September, and Viz will also stream the anime on its website and on Daisuki.
Update: Typo fixed. Thanks, Яeverse
---