News

Isekai Shokudō Gourmet Fantasy Light Novels' Author: Anime Is in the Works

posted on by Egan Loo
Story of restaurant that serves cuisine from another world every Saturday
---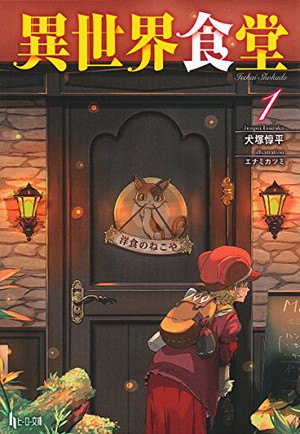 Light novel author Junpei Inuzuka reported in a September 7 blog entry on the Shōsetsu-ka ni Narō website that an anime adaptation project of his Isekai Shokudō (Alternate-World Restaurant) light novel series is in the works. He added that details are still forthcoming.
On the first basement floor of a building at a corner of a shopping district near an office area, there is a shop. It is the restaurant "Yōshoku no Nekoya" (Western Cuisine Cat Restaurant), whose door is adorned with a picture of a cat. Founded five decades ago, it has since been filling the bellies of the salarymen from the office area.
While it is described as "Western cuisine," it is an extraordinary restaurant with menus beyond Western cuisine that are rich and sumptuous. However, for people from "that world," it is even more especially unique.
There is a secret in Nekoya. Every Saturday when the shop takes a day off, Nekoya is teeming full of "special customers." With the jingling of the bell, it serves the rarest, most wonderous of delicious cuisine at the request of customers from all walks of life, upbringing, and ethnicity.
Certainly, for the office workers, it is a familiar place with familiar dishes. However, for the "Saturday customers" or "people from that world," it is nothing but cuisine never seen or heard before ... an "Alternate-World Restaurant."
Inuzuka launched the story on the Shōsetsu-ka ni Narō (literally, "Let's Become Novelists") website in 2013, and Shufunotomo's Hero Bunko imprint published the first print volume in February 2015. Katsumi Inami has been drawing the illustrations, and the third volume will ship on September 30.
According to Inuzuka, a manga adaptation will launch in Square Enix's Young Gangan magazine. While the manga will share the same first chapter about menchikatsu (deep-fried ground meat cutlet) as the original web novel, the second chapter will be different.




[Via Nijipoi]
---