News

Black Butler: Book of the Atlantic Anime Film's 1st TV Ad Streamed

posted on by Jennifer Sherman
Adaptation of manga's luxury liner arc premieres on January 21
---
The official website for Kuroshitsuji: Book of the Atlantic (Black Butler: Book of the Atlantic), the upcoming Black Butler anime film, began streaming its first television commercial on Wednesday. The film's official Twitter account also began streaming the commercial, which previews the theme song "Glass no Hitomi" (Glass Eye) by the band SID. (Note: The YouTube video on the official website is region-locked to Japan.)
The film's confirmed returning cast includes:
Daisuke Ono as Sebastian Michaelis
Maaya Sakamoto as Ciel Phantomhive
Yukari Tamura as Elizabeth Midford
Junichi Suwabe as Undertaker
Jun Fukuyama as Grelle Sutcliff
Kenn as Ronald Knox
Noriaki Sugiyama as William T. Spears
Takuma Terashima as Snake
Hiroki Touchi as Baldroy
Yuuki Kaji as Finnian
Emiri Katō as Mey-Rin
Ryohei Kimura as Charles Grey
Tomoaki Maeno as Charles Phipps
Tatsuhisa Suzuki as Viscount of Druitt
Seiichirō Yamashita as Edward Midford
Kaito Ishikawa as Ryan Stoker
Atsuko Tanaka as Francis Midford
Jouji Nakata as Alexis Midford
The film will open in Japan on January 21.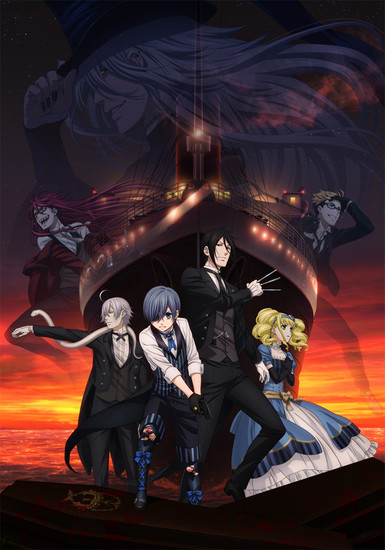 The film adapts the "Gōka Kyakusen" (luxury liner) arc, which appeared in the 11th through 14th volumes of Yana Toboso's original Black Butler manga. The story is set on the luxury liner Campania and centers around secrets to resurrecting the dead.
Noriyuki Abe is directing the anime at A-1 Pictures, and Hiroyuki Yoshino is writing the script. Minako Shiba is designing the characters and serving as chief animation director. Yasunori Mitsuda is composing the music. All are returning from the earlier Book of Circus and Book of Murder anime, and A-1 Pictures and Shiba have been involved in the franchise since the first Black Butler anime.
Thanks to Dennis R. for the embedded video.
---