Stephen Silverman Wins Yu-Gi-Oh! Trading Card Game Shonen Jump Championship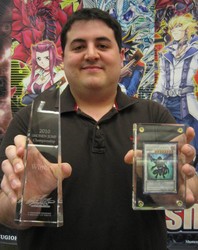 PHILADELPHIA'S STEPHEN SILVERMAN CELEBRATES THE NEW YEAR WITH A BANG AS HE DEFEATS HUNDREDS OF DUELISTS TO WIN THE KONAMI DIGITAL ENTERTAINMENT, INC. Yu-Gi-Oh! 5D'sTRADING CARD GAME SHONEN JUMP CHAMPIONSHIP IN LOS ANGELES, CA
EL SEGUNDO, Calif. (January 11, 2010) - At this year's first Yu-Gi-Oh! 5D's TRADING CARD GAME (TCG) SHONEN JUMP Championship, held in Los Angeles over the weekend, more than 1600 players showed off their impressive Dueling skills for a chance to be crowned the SHONEN JUMP Championship winner. Stephen Silverman from Philadelphia, PA out-battled the field of 1632 to claim the coveted title at the first of more than a dozen SHONEN JUMP Championships scheduled for 2010.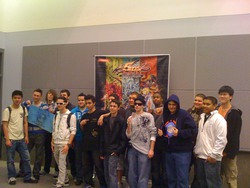 Silverman matched Michael Anderson from Seattle, card for card for the title after two days of intense Dueling. Prepared for a grueling Match, both competitors were at the top of their game with both Silverman and Anderson playing Lightsworn Decks with "Archlord Kristya" from Stardust Overdrive. Silverman and his peers took home prize packages that included such items as a "Dark End Dragon" SHONEN JUMP Championship Prize Card, a Top 16 SHONEN JUMP Championship Game Mat, popular personal video game console with Yu-Gi-Oh! 5D's World Championship 2010 Reverse of Arcadia, a copy of the Yu-Gi-Oh! Tagforce 4 video game, a popular video game console, a 32 GB personal music player with docking station and speakers, and a complimentary subscription to SHONEN JUMP magazine. Silverman will also receive a paid trip to the National Championship in 2010, courtesy of Konami Digital Entertainment.
Top finalists from the Los Angeles SHONEN JUMP Championship, along with the top Duelists from the Sunday Regional Qualifiers, also qualify to participate in the 2010 National Championship.
For more information on Konami Digital Entertainment, Inc. the Yu-Gi-Oh! TRADING CARD GAME or the SHONEN JUMP Championship series, please visit www.yugioh-card.com.
About The Yu-Gi-Oh! TCG
The Yu-Gi-Oh! TRADING CARD GAME is the #1 trading card game in the world with over 22 billion cards sold. It is a game of strategy, where players create individual Decks of cards collected from Structure Decks and Booster Packs. Two players engage in a Duel while using cards that represent powerful monsters, magical Spells and surprising Traps. Duelists with well-constructed Decks, dominating monsters, solid strategy and good fortune are the victors in the Yu-Gi-Oh! TCG. Konami Digital Entertainment, Inc. is the exclusive licensee and rights holder to the Yu-Gi-Oh! TCG in North America and Latin America.
About Konami
Konami is a leading developer, publisher and manufacturer of electronic entertainment properties and traditional trading card games. Konami's software titles include the popular franchises Metal Gear Solid, Silent Hill, DanceDanceRevolution and Castlevania, among other top sellers. Konami is also the manufacturer of the wildly popular Yu-Gi-Oh! TRADING CARD GAME, which has sold more than 22 billion cards worldwide. The latest information about Konami can be found on the Web at www.konami.com. Konami Corporation is a publicly traded company based in Tokyo, Japan with subsidiary offices, Konami Digital Entertainment Co., Ltd. in Tokyo, Japan, Konami Digital Entertainment, and Inc. in the United States and Konami Digital Entertainment GmbH in Frankfurt, Germany. Konami Corporation is traded in the United States on the New York Stock Exchange under the ticker symbol KNM. Details of the products published by Konami can be found at www.konami.com.
---