Disgaea D2: A Brighter Darkness Standard Retail Edition to Offer a Two-Disc Soundtrack, Art Print, Plus Free DLC at Launch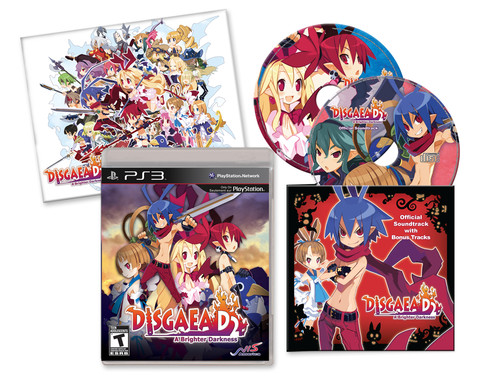 Santa Ana, Calif. (August 15, 2013)–NIS America is thrilled to announce that the newest installment of the fan-favorite strategy Disgaea® RPG series, Disgaea D2: A Brighter Darkness, will release on the PlayStation®3 computer entertainment system on October 8 in North America and September 27 in Europe. For the initial run of the game, the retail version will include a two-disc official soundtrack plus a graphic print. Also, for the first 30 days from the launch of the game, a costume DLC pack for Laharl, Etna, and Flonne will be available as a free download on PlayStation®Network!
For more information, please visit http://disgaea.us/dis_d2/
Key features:
Enhanced Customization: The character creation system has been completely revamped to allow for the highest level of character customization in series history!
Master/Pupil System: The player chooses the master and the pupil, as well as which skills to learn! Benefits include new skills and higher weapon proficiencies for the pupil, while the master gets a stat boost!
Item World: Challenge this battleground to power up your weapons, items, and characters! Prepare to deal massive damage!
Geo Panels: These status-altering blocks provide bonuses or detriments to the terrain! Change the tide of battle by skillfully manipulating these elemental icons!
Reunite with old friends and meet a new crew: Bringing back the fan-favorite trio of Laharl, Etna, and Flonne, with new characters and a brand-new story!
Dual Audio galore: Players have the ability to switch between and enjoy both the English and Japanese audio tracks whilst doing millions of points of damage!
Release date:
October 8 (US)
September 27 (EU)
Platform:
PlayStation®3
Genre:
SRPG
Player(s):
Single
ESRB/PEGI/USK:
Teen / 12+ / 6
Publisher:
NIS America, Inc.
Developer:
Nippon Ichi Software, Inc.
© 2013 Nippon Ichi Software, Inc. © 2013 NIS America, Inc. All rights reserved.
Disgaea is a registered trademark of Nippon Ichi Software, Inc.
About NIS America
In 2003, NIS America was established in Southern California to bring exciting, one-of-a-kind Japanese culture to North America. NIS America's team members devote themselves to the fans. Their respect for their fans is at the heart of everything they do. As an established entertainment publisher in the U.S., NIS America is committed to continuous growth and improvement.
NIS America is a subsidiary of Nippon Ichi Software, Inc., a Japanese company famous for its unique line of strategy RPGs with titles such as Disgaea, Phantom Brave, and Makai Kingdom. NIS America has also become a publisher of Japanese anime titles, such as Toradora!, anohana: The Flower We Saw That Day, and Natsume's Book of Friends.
---