RIGHT TURN ONLY!!
Everybody to the Limit
by Carlo Santos,

If there's one thing that's surprised me about the new anime season so far, it's that I haven't really run into the expected glut of predictable moeblob dating-sim adaptations. Either I'm doing a really good job of subconsciously avoiding these shows, or they've developed minds of their own and are doing a good job of subconsciously avoiding me ...
---
ATTACK ON TITAN


Vol. 2
(by Hajime Isayama, Kodansha Comics, $10.99)
FROM THE BACK COVER:
"The Colossal Titan has breached humanity's first line of defense, Wall Maria. Mikasa, the 104th Training Corps' ace and Eren's best friend, may be the only one capable of defeating them, but beneath her calm exterior lurks a dark past. When all looks lost a new Titan appears and begins to slaughter its fellow Titans. Could this new monster be a blessing in disguise, or is the truth something much more sinister?"
EVIDENCE FOR:
The human-versus-Titan battles in
Attack on Titan
are thrilling enough in themselves, with dizzying maneuvers and speedlines galore. So when a Titan turns on its own kind, just imagine how amazing
that
must look. This is where Hajime Isayama's art stands out most, with mind-blowing monsters putting on incredible displays of power. Isayama also never wastes a chance to show off the grand sense of scale, with Titans attacking human buildings as if they were Lego models. Meanwhile, the story itself reveals new wrinkles outside of the post-apocalyptic slugfest: Mikasa's flashback to her childhood is a horrifying thing to behold, but it makes her present-day character that much more admirable, and the twist in the last chapter is sure to leave readers in shock about what it could possibly mean. The various battle tactics employed in the story also keep the action from getting monotonous: as the Titans move about, the situation changes, and so do the soldiers' responses. Rather than screaming triumphantly and going in full guns blazing, it's more like a fight for survival in a losing situation ... which makes the drama that much darker and more gripping.
EVIDENCE AGAINST:
The art looks impressive when it comes to pure action sequences and displays of Titan rage, but it's woefully inadequate everywhere else. The human characters' faces and anatomy often look shaky, and sometimes even straight-out wrong (beware the deformed hands). Meanwhile, the poorly handled backgrounds—a lot of the time it's just blank space or nothing but speedlines—make it hard to get a visual grasp of the world the characters live in. The big establishing shots tend to be the only scenery we get, and even then they look like stiff perspective exercises. The story structure itself might also be described as stiff or contrived: when Mikasa's flashback comes along, it's practically a blinking signal that her present-day self is about to experience a deeply upsetting moment. Later on, she gathers the remaining soldiers together in a plan to take out several Titans—and there's never really any tension or excitement about whether they're going to pull it off (of course they do). When the story isn't busy being predictable, it's mostly chugging along with random scenes of violence and panic, not adding any depth to the characters or plot.
FINAL VERDICT:
The basic concept is still awe-inspiring, and this volume throws a few new twists into it. But with the sloppy artwork, and a storyline that doesn't grow much outside of that one flashback, it's just a
C
.
---
BARRAGE


Vol. 1
(by Kouhei Horikoshi, Viz Media, $4.99 online)
FROM THE BACK COVER:
"Fresh from
SJ Alpha
comes an action-packed reimagining of The Prince and the Pauper! Spunky slum kid Astro gets the chance of a lifetime to end the chaos ripping apart his home planet when the playboy prince switches places with him. Now Astro has become Prince Barrage, a boy charged with the duty of restoring peace to the planet ... and given an all-powerful magical spear to do it!
In order to save the planet, Astro will have to battle terrifying aliens while learning how to fight from his even more frightening guardian, the exacting knight Tiamat. Does a kid like Astro have what it takes to become the real prince and save the planet?"
EVIDENCE FOR:
High fantasy and space opera applied to a classic children's novel? Sure, why not? The first volume alone is a multi-genre adventure: feudal fairytale, wild frontier road trip, and alien-smashing sci-fi brawler. The story also takes time to explore some pretty serious ideas: the disconnect between the ruling class and common folk, what it means to sacrifice one's self for family, and the noblesse oblige that comes with being a true prince. However, there's stilll plenty of room for high-energy battles, each one different from the last, just as it should be with any well-produced
Shonen Jump
series. Astro makes for an incredibly likable protagonist, with his upstanding principles and youthful vigor, while his enemies—rogue aliens bent on overthrowing the planet—are each unique in their powers and goals. The imaginative sweep of
Barrage
is also evident in its polished artwork, where sprawling cityscapes, gleaming palace interiors, and forbidding wastelands all come into play. Good and evil characters alike are creatively designed, whether it's monstrous aliens or the snappily dressed royal court. Astro's specially appointed weapon steals the show every time, though, with its surreal effects that practically pop off the page.
EVIDENCE AGAINST:
Sometimes, there are artists who are so talented that they don't know when to stop themselves. So it goes with Kouhei Horikoshi, who clearly has the skills to make
Barrage
work, but overloads battle scenes with fancy flourishes and complex action poses. (Oftentimes it's something as simple as "Tiamat attacks with his sword.") And it's not just artwork that can be excessive, but dialogue too: the first few chapters are burdened by small talk to set the mood, which forces the reader to slow down and read each line. How can it be an energetic, fast-paced story with all that text to wade through? Another problem arises in the volume's second half, where the story switches to an alien-battling road trip: it starts to look just like any other battle manga with Astro and Tiamat seeking out new opponents in linear fashion. Granted, there are new characters to meet and different locales to visit along the way, but gone is the intrigue of trying to live a royal lifestyle, or dealing with the city's societal pressures. Looks like those possibilities are gone ...
FINAL VERDICT:
Admittedly, it's formulaic in some ways, but the energetic, swashbuckling attitude and the highly accomplished art are enough to earn this a
B
.
---
LIMIT


Vol. 1
(by Keiko Suenobu, Vertical, $10.95)
FROM THE BACK COVER:
"In classrooms across the globe there are cliques. These circles have set their own rules and standards that they attempt to impose on their peers, to varying success. Sometimes these groups go beyond the principles of friendship and scholarship. And in seemingly increasing numbers some of these groups turn to perversely righteous self-preservation."
EVIDENCE FOR:
It's an age-old concept: take a group of high school students, throw them into the wilderness, and see what happens when social structure falls apart. But Keiko Suenobu, with her talent for seeing into teenage minds, attacks the subject with remarkable insight. This isn't just the basic Populars vs. Losers analysis of high school: in fact, it turns out Mizuki isn't even sure of her social status after realizing she's just been tagging along after the pretty kids the whole time. Friendships—including fake ones—are tested in this nerve-wracking storyline, while subplots involving violence and revenge come to the surface when the class loser decides to get back at her tormentors. That's what makes the whole story effective: it may be fictional, but it's easy enough to imagine real kids feeling this way. The sure-handed artwork also adds to the intensity: dramatic expressions and varying panel layouts can turn even an ordinary conversation into a riveting, must-view event. Distinctive character designs make it easy to spot who's who, as well as where they stand on the social ladder—a ladder that's about to collapse.
EVIDENCE AGAINST:
Limit
has some of the same problems as Suenobu's biggest hit,
Life
—and that's not too surprising considering how they cover similar themes. The biggest weakness is its reliance on wild, melodramatic twists: none wilder than the one where bottom-feeder Morishige turns into a vengeful maniac, which really screws up the anti-bullying message. ("We should feel sorry for freaks," it seems to say condescendingly, "because they're actually unstable head cases who might attack you.") Hyper-critical readers may even include the series' premise—bus plunge into a forest!—as an example of unrealistic twists applied to the realism of high school life. Unoriginal
and
far-fetched—wow, one more strike and this series is out. On a more small-scale level, the characters also spend an awful lot of time overreacting angrily; after a while it seems every other scene is a declaration of panic or a fiery argument. Indeed, so much emphasis goes into the dialogue scenes that the artwork often neglects the hostile forest environment, which would help add some much-needed ambience to the story.
FINAL VERDICT:
Even though it's set outside the classroom, it's got all the drama and high school politics one could ask for. However, some less-than-great plot devices average this out to a
B-
.
---
NURA: RISE OF THE YOKAI CLAN


Vol. 11
(by Hiroshi Shiibashi, Viz Media, $9.99)
FROM THE BACK COVER:
"While the day belongs to humans, the night belongs to yokai, supernatural creatures that thrive on human fear. Caught between these worlds is Rikuo Nura. He's three-quarters human, but his grandfather is none other than Nurarihyon, the supreme commander of the Nura clan, a powerful yokai consortium. So, Rikuo is an ordinary teenager three quarters of the time, until his yokai blood awakens. Then Rikuo transforms into the future leader of the Nura clan, leading a hundred demons.
The Nura clan and their allies encounter a forest of torii gates on their way to find Hidemoto's lost seals. There, Rikuo and the others find themselves at the mercy of a yokai capable of using the thousand torii gates to form a massive, deadly labyrinth. Awashima falls prey to the labyrinth and is transported to another dimension, diminishing their numbers. Awashima will have to battle a mysterious and powerful yokai before attempting to escape."
EVIDENCE FOR:
Nura
, it seems, is on a quest to be anything
but
a generic escalator-battle manga. Volume 11 is surprisingly diverse in its offerings: the first big action sequence is a dramatic airship crash-landing, and then comes Awashima's bizarre showdown against a cryptic enemy, where the key to victory is not brute force but outsmarting the other guy. In fact, the only "traditional" rah-rah shonen battle is the one at the end, where Rikuo's crew takes on Hagoromo-Gitsune's most powerful underling—and even then it's more about strategizing whether they have enough resources to take on the villain, rather than just charging straight in. When they do charge in, though, the different styles of magic and multiple combatants make it as busy and exciting as anything else in the genre. Eye-catching artwork also adds to the impact of each fight: bold brushstrokes create an aura of ancient Japanese spirituality, while the sheer variety of monsters featured in group shots always makes an impression. Meanwhile, the historic setting of Kyoto provides plenty of background detail as the action moves from one venue to another.
EVIDENCE AGAINST:
Could it be that
Nura
is trying too hard to be everything to all readers? After the tightly focused storyline of the last several chapters—Sacred seals falling one by one! Everyone racing to stop Hagoromo-Gitsune!—this volume finally brings all the players together ... then just kind of tosses them randomly. Awashima's battle in the labyrinth is hauntingly beautiful, but seems like a distraction from what everyone really wants to see: Rikuo putting his powers to the test (which already happened once last volume). The number of transitional or "administrative" chapters also bogs the story down: here's the Keikain clan planning their next move, and Rikuo negotiating with potential allies, and Hagoromo herself discussing plans for world domination ... all of which are important, but interfere with capturing the thrill of the fight. Other times, it's the crowded artwork that dampens the fun—too many moves to follow, too many folks in one spot, too many panels trying to show what's going on in a single page. That can also mean losing track of who all the supporting characters are and how their powers work.
FINAL VERDICT:
The imaginative action scenes would be more enjoyable if the story had better organization. As it is, this rather haphazard volume gets a
C+
.
---
YOTSUBA&!


Vol. 11
(by Kiyohiko Azuma, Yen Press, $11.99)
FROM THE BACK COVER:
"Say cheese! Say cheeeese! Yotsuba's got a shiny new camera! But this new camera is too cool for just Daddy's silly poses. What else should Yotsuba take? Maybe the nice man at the restaurant who makes udon, or Shaggy Beard at the bike shop. But definitely not that dog down the street. He's a little scary and ... Oh no! Watch out, Juralumin!!!! WAHHHH!"
EVIDENCE FOR:
How can such a simple manga can be such a masterpiece? Once again,
Yotsuba&!
takes the simplest of ideas—five-year-old Yotsuba discovering the world around her—and pulls an entire rainbow of emotions out of it. When she eats pizza for the first time, or learns how to blow bubbles, the series exudes pure joy: you're not just watching a kid having fun, you
are
a kid once again. There's also the humor of Yotsuba misunderstanding various situations, like what to say at a hospital visit ("I'm very sorry for your lots"), or proper photo-taking etiquette. But the best storyline is the one designed to hit readers right in the heart: teddy bear Juralumin gets damaged and Yotsuba practically goes into mourning while Asagi next door tries to fix it. It's so rare to see Yotsuba depressed that this becomes a defining moment for the series, a true test of its emotional range. The artwork also shows just as much versatility as the storytelling, with the simple and iconic main characters set against highly detailed, painstakingly shaded backgrounds. The neat, rectangular layouts and frequent use of wordless panels also allow the visuals to flow naturally throughout.
EVIDENCE AGAINST:
What do I even put in this section? There's hardly any anything
Yotsuba&!
does wrong. Sure, it'd be nice if there were more conflict or challenge: in the first chapter, Yotsuba basically wanders into an udon restaurant and that's it; in the camera chapter, Yotsuba strolls through the neighborhood taking photos and that's the end of that. Fully-developed storylines like the Juralumin saga are more the exception than the rule. Yotsuba's simple-mindedness can also become tiresome after a while—she basically reacts to every single thing by yelling about how great it is. Yes, a sense of wonder is an admirable quality, but when the main character literally has the mind of a five-year-old, it's not like she has much deep philosophy to share. In order to enjoy this series, one has to be tolerant enough of kids being kids, who do as they please and sometimes bother the adults around them.
FINAL VERDICT:
Heartwarming, emotionally fulfilling, and beautifully drawn—sometimes simpler really is better (if not the best), and that's why this earns an
A
.
---

WITCH AND WIZARD


Vol. 2
(by James Patterson, Ned Rust and Svetlana Chmakova, Yen Press, $12.99)
FROM THE BACK COVER:
"The One Who Is The One is convinced that Wisty holds the key to unparalleled power, that she is the 'The One Who Has The Gift,' and will stop at nothing to possess that power for himself. The New Order's tactics for crushing the resistance have reached a fever pitch, and Whit and Wisty's luck seems to be running out. With their lives hanging in the balance, the Allgoods' chances of survival hinge on trusting the less-than-trustworthy Byron Swain. But in the end, where does his true allegiance lie...?"
EVIDENCE FOR:
Dystopian science fiction versus straight-up magic: who will win?! The idea behind
Witch and Wizard
seems so simple, so limited—two magical siblings running from a tyrannical, tech-powered government—yet the situations Whit and Wisty get themselves into continue to surprise. Who'd have thought that an action-adventure series would have time for an exhilarating rock concert ... which leads to a whirlwind romance? And every time the kids fall into enemy clutches, they seem to find some new, brilliantly sneaky way of escaping: enchanted flutes, shapeshifting, and who knows what else. Magical fireworks aside, this volume also features interpersonal relationships in a state of flux, the most notable being Byron Swain's affection for Wisty. Few things are as heart-wrenching as having to witness that fateful decision between love or duty ... and the consequences that follow. Amidst these ups and downs—especially in the action-packed closing chapters—the artwork often steals the show, with incredible fire effects, energy blasts, and imaginative magical transformations. Yes, the kids always outwit their captors, but who knows
how
they'll do it? Between the lively action sequences and fast-paced visual layouts, this is the perfect adrenaline rush from page 1 to 250.
EVIDENCE AGAINST:
Although
Witch and Wizard
carves out a deeper storyline this time, it still moves too fast to let readers really get attached to the characters. Let's say there's a touching scene involving Whit and Wisty's parents—it only lasts a few panels before the kids have to return to attack mode once again. Even the main romantic subplots operate like this: okay, the characters kissed, now let's jump right back into bang-bang magic and action. With all this running and fighting, the world-building aspect also gets pushed to the side. We learn a few more things about the New Order and The One, but politics and social structure remain pretty vague outside of "rebel kids versus evil dictatorship." Also tied into this simplistic worldview is the occasional preachy message about how being creative and independent makes you a special snowflake. Meanwhile, the artwork goes through some boring stretches, usually at the New Order's facilities where everything is the same shade of white and gray. (It's a valiant attempt to look futuristic, but just comes out dull.) The supporting cast also suffers from monotonous character design—they're all wide-eyed kids with cute, pointy faces.
FINAL VERDICT:
It's James Patterson. It's never going to be an intellectual masterpiece, but the excitement of the story—where sci-fi and fantasy collide, in visually stunning ways—is enough to want to keep on reading.
---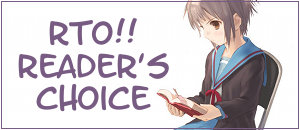 At RTO!! Reader's Choice, we're always open to different viewpoints. So here's
Eric P.
(you know he wasn't going to stay gone for long) with his own thoughts on a manga that got reviewed here not too long ago. Agree? Disagree? Everyone's welcome to bring their opinions to the table!
Remember, you can bring YOUR opinions to the table as well if you submit a review. It only needs to be a few paragraphs long—check out the details below and join in the Reader's Choice crowd.
FLCL (Omnibus Edition)

(by Hajime Ueda, Dark Horse, $19.99)
Everyone should know all about the story of
FLCL
, at least in general, an anime that's hyperactive, wild, crazy and fun like one wouldn't have imagined prior. One may wonder how well a series like this could translate to graphic novel format. Except there is one little thing about this manga's execution—this is not the same
FLCL
story, not exactly. Never mind that Hajime Ueda's sketch-styled artwork doesn't really reflect Gainax's animation, although one will find out that it still reflects the manga's tone.
It takes the same basic setup. Alien-girl Haruka drops into normal-boy Naoto's life and turns his world upside down by having robots pop out of his head, and Naoto tries rising as a hero. The rest of the cast of characters are there, Mamimi included, but that's where the similarities stop. Here the story takes an alternative direction from the anime, with secrets and plot revelations that are likewise dissimilar.
In short, while it still has its funny moments mostly during the first half, the manga version of
FLCL
is still dark. Of course the anime had its dark and twisted moments, but in the end the overall series was in good fun. But the manga's story turns out to be just bleak in its second half, to the point of being sadistic. For instance, in the manga Naoto really does kill who he initially thought he killed in the anime. From that point on his world, both metaphorically and literally, tears apart as he and everything falls into insanity. This is just scratching the surface.
Reading this, some fans of the anime may be turned off from bothering with the manga, but one should know that it still offers elements that the anime didn't have. Ninamori, Naoto's classmate, was a prominent girl character in the anime. Yet in retrospect, aside from Episode 3 she really didn't do much of anything significant to the main story, making one wonder why there was so much focus on her. But in the manga, the robot that came out of her head stays attached, and only here does she rise as a fellow heroine and fights alongside Naoto in saving the town from total annihilation.
Sure, the manga version is rather brutal, and some readers may find the ending less uplifting than the anime's conclusion. But for this reviewer, after watching the anime it's really interesting to read a different take and perspective on the same story and see some what-could-have-beens. It hurts, but in a strange way it hurts good. And now Dark Horse has taken what was originally a Tokyopop title and made a snazzier omnibus edition with nice additional color images. Also included is a bonus dialogue-free
FLCL
story, where all the pages are stark black while the character imagery are traced in white. It makes for a somewhat haunting effect, although it appears to just be a silly thing about Naoto having an air-gun battle with the girls. Definitely something to collect.
---
Is there a hidden gem of manga you'd like to reveal to the world? Is there a piece of garbage that deserves to be bashed in public? Or is there a title that didn't get a fair grade here, and you want to set the record straight?
Now's YOUR chance to be the reviewer! Write a review of about
300-400 words
(a little more or less is fine) and include:
- Your name
- Title of manga (and volume no., if applicable)
- Author/Artist
- Publisher
- Briefly describe the story, then explain why this manga is great, terrible, or in between. Be objective, but also be entertaining.
Then send it in to
rtoreaders (at) gmail (dot) com
(plain text format preferred). One review will be selected out of all the submissions and will be published in the next column. All types of manga and manga-inspired comickry are accepted, from past and present, from Japan and beyond—what matters is that it's the Reader's Choice! NOTE: Submissions may be edited for formatting and grammar
---
discuss this in the forum (8 posts)
|