Anime Spotlight - Urara Maze Town Book
by ANN Staff,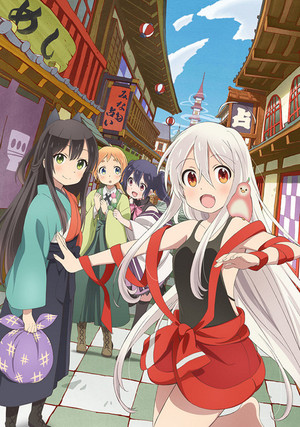 On air starting January 5, 2017

Key Staff
Director: Youhei Suzuki

Series Composition: Deko Akao

Character Design: Mai Otsuka








Story
Let's enjoy every day and become top Urara together!
In order to become the top Urara (fortune-teller), an energetic girl named Chiya, comes to Maze Town—a town where the best fortune-tellers gather— to start her training. This comedy follows Chiya and her three classmates and the crazy and funny adventures they have together.
Characters
A girl who was raised in the mountains who came to Meirocho to see her mother. She has a tendency to get loved by animals.

Age: 15
Birthday: Unknown
Blood Type: O
Height: 154cm
Fortune-Telling Specialty: Unknown

The only child of the famous teahouse "Tatsumiya." She has very good grades. She dislikes fried tofu, however.

Age: 15
Birthday: March 15
Blood Type: A
Height: 158cm
Fortune-Telling Specialty: Table-turning

The cool and collected daughter of the Yukimi Zaibatsu who loves western culture. She has a complex about her name, though.

Age: 15
Birthday: February 1
Blood Type: B
Height: 156cm
Fortune-Telling Specialty: Dowsing, tarot cards

The shy daughter of the Natsumeya. The name of her favorite doll is Matsuko.

Age: 15
Birthday: December 16
Blood Type: A
Height: 152cm
Fortune-Telling Specialty: Voodoo dolls
Cast
Chiya

Sayaka Harada

Kon Tatsumi

Kaede Hondo

Koume Yukimi

Yurika Kubo

Nono Natsume

Haruka Yoshimura

Nina Natsume

Saku Iroi
Staff
Original Story

Original Character Design

Mai Otsuka (Shakugan no Shana I, II, III)

Director

Youhei Suzuki (The "Hentai" Prince and the Stony Cat.)

Scenario

Deko Akao (Snow White with the Red Hair)

Art Director

Color Coordinator

Sound Director

Director of Photography

Editing

Music

Sound Production

Animation Production

 

Theme Songs

Opening: "Yumeji Labirinth" (Dream Labyrinth) by Sayaka Harada, Kaede Hondo, Yurika Kubo, Haruka Yoshimura
Ending: "go to Romance>>>>>" by Lucy Twinkle Wink☆
---
this article has been modified since it was originally posted; see change history