×
remind me tomorrow
remind me next week
never remind me
Subscribe to the ANN Newsletter • Wake up every Sunday to a curated list of ANN's most interesting posts of the week.
read more
Anime Spotlight - Hitori No Shita The Outcast 2 (Raten Taisho Chapter)
by ANN Staff,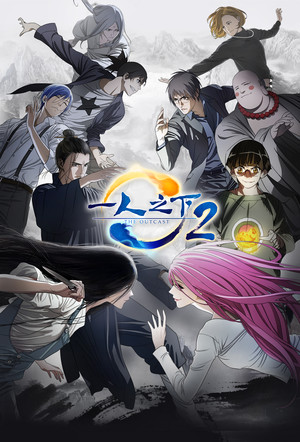 An episode 0 (recap of the first season) will be broadcast on January 10, 2018 (JST).
1st episode of the season 2, will then start January 17, 2018 (JST).


Key Staff
Animation Production: Emon Animation Company

("The Silver Guardian (TV)" as Animation Production, "Hitori no Shita - the outcast (TV)" as Animation Production. "Attack on Titan (TV 2/2017)" as Editing Studio)













Introduction
Broadcasted in China since July 2017, the 2nd season of Hitori no Shita - the outcast will finally receive a Japanese localization. Hitori No Shita 2 (Raten Taisho Chapter) will start broadcasting in January 2018.
In the first season, the protagonist, Chou Soran, hiding that he is an "outsider" (someone able to use special abilities) encounters a mysterious girl named Fuu Houhou who holds the secret of eternal life.
Together, they will join the Raten Tournament where they will try to solve the mysteries related to themselves.
In this 2nd season that marks the beginning of this fighting tournament between Outsiders, mysteries will gradually be unveiled and new characters will appear.
The famous cast from the season 1, Atsushi Tamaru (Chou Soran) and Saori Hayami (Fuu Houhou) will be joined by others famous voice actors like Kousuke Toriumi, Kazuyuki Okitsu, Daisuke Hirakawa, Shinnosuke Tachibana, Kenji Nojima and Youko Hikasa.
Story
The Raten Taisho: a festival where people with abnormal powers gather. Chou Soran's journey to this martial arts gathering is also one in search of the truth! Protagonist Chou Soran was just a regular old college student starts his battles with hordes of people with abnormal powers once he teams up with Fuu Houhou, a girl with a secret: she's immortal. As he fights, the mysteries surrounding his grandfather and Chou Soran himself!
Character Names & Descriptions & Seiyuu
Chou Soran

Voice: Atsushi Tamaru

Having learned the Kankoshi and Yogorai as part of his Tenshifu martial arts training, Chou Soran was able to inherit the Kitai Genryu, one of eight techniques. His grandfather, however, forbade him from using this power in front of others. He appears to be not the sharpest knife in the drawer at first glance, but he's actually very sensitive to things and is very cautious. After finding out that his grandfather was also trained in the art of Tenshifu, he decides to participate in the Raten Taisho to find out the truth about him.

Fuu Houhou

Voice: Saori Hayami

A mysterious immortal girl. She has amazing powers of healing, and looks like a young girl no matter how many years pass. She's a bit spacey, clumsy, and isn't always dressed her best, but she's actually a true beauty.

Chou Reigyoku

Voice: Kousuke Toriumi

The last apprentice of Chotenshi of Mount Longhu. He's a simple man, but has a gentle personality. He's very polite and respects Chotenshi extremely deeply. He invited Chou Soran to the Raten Taisho because of his orders to do so from Chotenshi.

Ou Ya

Voice: Kazuyuki Okitsu

A student of the Wudang Sect of martial arts who has inherited the "Fugo Kimon," one of the eight secret arts.

Shokatsu Sei

Voice: Daisuke Hirakawa

A descendant of legendary strategist Shokatsu Koumei (Zhuge Liang), this man is in pursuit of knowledge relating to the Qi Men Dun Jia, which is part of the Buzoku sect of martial arts. He's called the young Buzoku genius of the Zhuge clan. He's very good at picking up the ladies. He looks cool and unfriendly at first glance, but he's actually pretty easy to get along with.
Cast
Chou Soran

Atsushi Tamaru

Fuu Houhou

Saori Hayami

Chou Reigyoku

Kousuke Toriumi

Ou Ya

Kazuyuki Okitsu

Shokatsu Sei

Daisuke Hirakawa

Jo San

Kenji Nojima

Jo Yon

Shinnosuke Tachibana

Ja Seiryan

Fuu Shinton

Fuu Saen

Shokatsu Haku

Natsuka

Youko Hikasa
Staff
Original Work

Mier "Hitori no Shita" published by Tencent Animation & Comics

Director

Character Design

Li Shiwen

Sound Director

Wu Ting

Japanese Version Sound Director

Art Director

Jin Rongzai

Director of Photography

Zhen Zhuli

Editing

Chen Ye, Wang Xin

Acoustic Production

Woo Sound Studio

Japanese Recording Studio

Animation Production

Emon

Japanese Opening Theme

"Kizudarake no Bokura" (We are Covered in Scars) by NormCore

Chinese Opening Theme

"Mugai" (No Horizons) by zuixue




© TENCENT Animation& Comics /The Outcast Production Committee
---
this article has been modified since it was originally posted; see change history