×
remind me tomorrow
remind me next week
never remind me
Subscribe to the ANN Newsletter • Wake up every Sunday to a curated list of ANN's most interesting posts of the week.
read more
Otakon Vegas 2014
by Bamboo Dong & Christopher Macdonald,

Closing out its first year of operation with an estimated 2,000 guests, Otakon Vegas had all the feelings of a small town con—a cozy three-aisle dealer's room, a cluster of Artist Alley booths, and of course, an event space that was packed into a hotel convention center—but as Co-Con Chair Terry Chu said at Opening Ceremonies, "Let's come back to our roots and build an event that will be in a hotel. But because we're Otakon and we're crazy, we said, 'okay, we'll do it in a hotel, but we'll do it in a hotel in Las Vegas, on the Strip.'" And so it was, a cozy, small-town convention, located in one of the most bustling and most expensive cities in the US. It's the antithesis to the sprawling giant that is Otakon Sr., and yet so very Otakon in flash and flair. Where else, perhaps, could an attendee attend a panel called "Mike Toole Presents Anime in Orbit: Realistic Space Travel in Anime," watch an episode of Hajime no Ippo, and then amble the streets carrying a 50 oz. alcoholic beverage in a container shaped like the Eiffel Toiwer?

Two years in the making, Otakon Vegas was as much about celebrating the 20th anniversary of Otakon Prime as it was, as Chu said, to "try and expand our horizons and do something fun and new." And if by that, they meant to create a small convention that would tickle the nostalgia centers of all attendees—old and new— who still remember loitering in hometown hotel lobbies and squealing at cosplayers, and yet be spared the inconvenience and boredom of being stranded in a sleepy suburb, then they succeeded. It was a culture clash in and of itself, a convergence of "nerd" and "cool" that was able to convince even out-of-towners to drop the significant wad of cash necessary to travel the weekend after New Year. And, with Otakon Vegas 2015 already announced for mid-January, one can only hope and presume that attendance would go up.
For a first time convention, Otakon Vegas had plenty of special guests to keep attendees entertained, starting with voice talents like Zach Bolton, Richard Epcar, Jamie Marchi, Mary Elizabeth McGlynn, Ian Sinclair, and Ellyn Stern. Sinclair, who plays Space Dandy's title character, Marchi, and Bolton, the ADR director for the series, were also on hand for the Space Dandy launch event, which gave attendees the chance to watch the heavily anticipated show before its East Coast premiere on Toonami.
Other guests included Frederik Schodt, noted writer and translator, as well as two internationally ranked sumo wrestlers, the United States' Kelly Gneiting, and Mongolian-born Byamajav Ulambayar.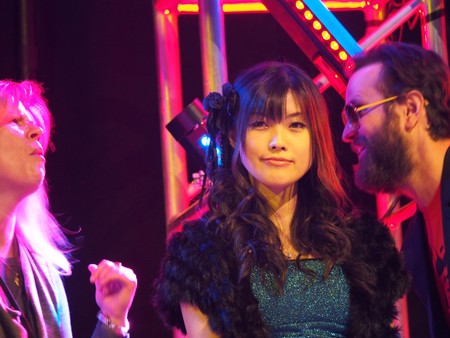 Musical guests included Sayaka Sasaki, an Animax Anison Grand Prix grand prize winner, who greeted fans during the Open Ceremonies, saying, "Nice to meet you everyone! My name is Sayaka Sasaki. I am a Japanese animation singer. I am so happy to come here, the first Otakon Vegas. I will do my best tonight at my live concert. I hope that many people come to see me. Let's enjoy this wonderful carnival together."
While Nobuhiro Watsuki (Rurouni Kenshin) was invited as an Otakon Vegas guest, he unfortunately had to cancel due to work commitments. Attending in his stead was his wife, novelist Kaworu Kurosaki, who mentioned during the Opening Ceremonies that she enjoyed the chance before the convention to sky dive, and shoot a machine gun.
Other Japanese guests included Eyeshield 21 mangaka Riichirou Inagaki, who in addition to a Q&A panel, also held a portfolio review. He mentioned during the Opening Ceremonies that Japanese fans were typically too shy to attend his portfolio reviews, but "I want to see your American pluck, and I want to see your stuff!"
Also in attendance was Masahiro Ando, who directed Blast of Tempest and Hanasaku Iroha, and has done key animation for works like Cowboy Bebop: The Movie, Fullmetal Alchemist, and Jin-Roh - The Wolf Brigade.
It's testament to the vast, multi-decade experience of a show like Otakon that a first year convention could draw this many Japanese and American guests. In fact, everything about the show revealed the extensive experience behind the organizers. Otakon Vegas may have been small, but it was tightly run and well planned, down to details like the finagling of a discounted 24-hour buffet pass, a boon in a city where a simple lunch can run $30 or more.
Of course, while Otakon Vegas didn't quite have the industry presence as larger conventions, there was still a smattering of industry presence.
Industry Panels
Funimation
Heading the first industry panel of the convention was Funimation's Senior Manager of Social Strategy and Development, Justin Rojas. He first introduced Space Dandy, which was scheduled to premiere at the convention, ahead of its East Coast air time. For those attending the convention, they had the chance to swing by the Funimation booth and check out their BooBies lounge, their rendition of the lounge showcased in the series. There, fans could pick up BooBies stickers and calendars; those who attended the premiere could also score BooBies wall pennants.
Rojas then ran through some of the ways in which fans could connect with Funimation online, through various social media services such as Facebook, Twitter, and Instagram. He also listed some of the sites where fans could watch their simulcasts, which include popular properties like Toriko, One Piece, Blaz Blue Alter Memory, and others.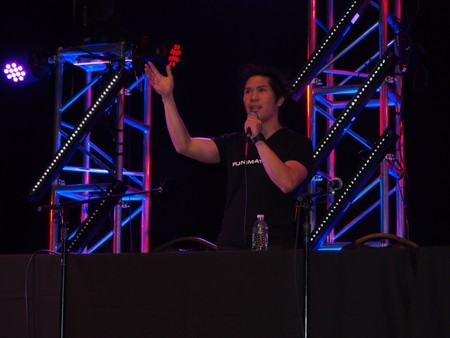 The rest of the panel was spent showing trailers for recent and upcoming Blu-ray and DVD sets such as Good Luck Girl, Aquarion Evol, Aesthetica of a Rogue Hero, One Piece Season Five Voyage Five, Dragon Ball Z season one (remastered), and movies like the Akira 25th Anniversary Edition, One Piece Film Strong World, Wolf Children, and Fairy Tail the Movie: Phoenix Priestess. For upcoming properties, fans can look forward to the Evangelion: 3.0 You Can (Not) Redo movie, which will be screening in select theaters this month, and Space Dandy, which begins airing on Cartoon Network's Toonami block on January 4 at 11:30PM EST.
In simulcast news, Rojas confirmed that Funimation will be simulcasting Noragami, BONES' television adaptation of Adachitoka's supernatural manga about a minor god named Yato who teams up with a Hanyō—someone whose spirit comes out easily—and a young boy to fight against demons seeking to harm humans. Funimation will also be streaming Inari, Konkon, Koi Iroha, a series about a girl who gains the ability to shape shift, thanks to a gift from a fox deity. The series is based on Morohe Yoshida's original romantic comedy manga. Funimation also confirmed that they will be streaming Maken-Ki! Two, the second season of the series based on Hiromitsu Takeda's manga.
Lastly, for new announcements, Funimation will be streaming the D-Frag! TV anime as it airs in Japan. The series is based on Tomoya Haruno's comedy manga of the same name, and follows a delinquent named Kenji Kazama who is arm-twisted into joining an idiosyncratic game-making club.
Aniplex of America
Representing Aniplex of America was marketing specialist E.J. Rivera, who introduced several of the Aniplex properties currently streaming in North America, and which are available on the Aniplex Channel, Hulu, Crunchyroll, and Daisuki. Shows featured included Magi – The Labyrinth of Magic, Samurai Flamenco, Kill la Kill, and an extra edition of Sword Art Online.
Starting this season for simulcasts will be the TV series World Conquest Zvezda Plot, an action fantasy series about a girl named Kate Hoshimiya who manages to somehow dominate the world. The series will begin January 11. Also beginning January 11 is the TV anime adaptation of Naoshi Komi's comedy manga, Nisekoi, which follows a normal high school student named Raku Ichijo, who just so happens to be the heir to a yakuza group.
Afterwards, Rivera highlighted some of the properties currently available on Blu-ray and DVD, including Blast of Tempest season one, Sword Art Online, Fate/Zero, and Blue Exorcist; as well as series that were available on DVD only, such as Vividred Operation and Oreshura. Soon to be available on DVD, the first set of Magi – The Labyrinth of Magic will be released English dubbed and subtitled on January 14.
Meanwhile, those eager to check out Blue Exorcist can watch the series on Toonami beginning in March. Movie fans can look forward to the Anohana movie, which will be playing in select theaters on January 18.
Lastly, Rivera showed a brief spot for the upcoming Sword Art Online II, which is set to launch sometime in 2014.
Crunchyroll
Crunchyroll's industry panel was presented by marketing manager Victoria and employee Danika. The ambassadors highlighted the simulcasts that were streaming on the website this season, including Nobunaga the Fool, Hozuki no Reitetsu, and Super Sonico, Pupa, and others. For a full list of this season's simulcasts, check out their list here.
During their special announcements segment, the ambassadors confirmed that Crunchyroll would be streaming both the film and television series for the Wake Up, Girls! anime project.
For new simulcasts, the ambassadors announced that the website would be streaming the second season of the Silver Spoon anime, beginning January 9, as well as the Z/X Ignition television anime, also beginning January 9. Z/X Ignition is based on Nippon Ichi Software's trading card game Z/X Zillions of enemy X.
Other Events
For entertainment, fans had the chance to not only attend a live musical concert, but a sporting event as well. The musical guest for the convention was Sayaka Sasaki, who got her musical break by winning the grand prize in the Animax Anison (Anime Song) Grand Prix, and debuted in 2010 with the opening theme to the TV anime Book of Bantorra. Other works she's performed for include Nichijou - My Ordinary Life, and So, I Can't Play H!. Her concert was held on Friday, January 3, in front of a crowd of lively fans.

More popularly attended were the two sumo wrestling matches, featuring US sumo wrestler Kelly Gneiting, who holds the Guinness World Record for Heaviest Person to Complete a Marathon (at 400 lbs), and Mongolian wrestler Byambajav Ulambayar, who bested Gneiting nine out of ten rouds. Afterward, attendees were invited to come up to the stage and try their hand against the professionals.
Closing Thoughts
In the year leading up to Otakon Vegas, many of their organizers have touted wanting to do something "different" for this convention. And even in the days prior to the convention, one couldn't help but wonder, "what does that mean?" At first glance, the 70-plus hours of programming doesn't scream "different"—it had more substance than a standard 2,000-attendee convention—one of the special panels was a collaborative effort between Ando, Inagaki, and Kurosaki, who walked fans through the steps of writing, storyboarding, and directing—but the uniqueness of Otakon Vegas doesn't quite sink in until after the event is over. It's a juxtaposition of big and small, wild yet cozy, a place where friends from all over the country can justify a trip to a destination city, while still enjoying the warm atmosphere of a homegrown convention.
As anyone who has been to the city knows, Las Vegas is a massive, cold beast that makes you feel lonely and disoriented. Otakon Vegas was a small slice of familiarity, one that let attendees breathe a sigh of relief the second they stepped back onto the mezzanine, away from the bleeps and bloops of Vegas perma-nightlife.
Yes, Otakon Vegas is small, but one can't help but think they planned it that way.
---
discuss this in the forum (28 posts)
|
this article has been modified since it was originally posted; see change history