×
remind me tomorrow
remind me next week
never remind me
Subscribe to the ANN Newsletter • Wake up every Sunday to a curated list of ANN's most interesting posts of the week.
read more
Tokyo Game Show 2014
by Crystalyn Hodgkins & Matt Hodgkins,

Tokyo Game Show 2014
September 18-21 at Makuhari Messe in Chiba, Japan
The Facts
Tokyo Game Show this year expected 220,000 visitors across the four-day event. For those unfamiliar, the event consists of two Business Days for industry members and press and two days for the general public. The impressions given here were mostly from the first two days of the show.
The stats of the show are quite telling for the status of the video game industry in Japan. Recently in an interview with Kotaku, current Final Fantasy XV director Hajime Tabata said that "the Japanese market is shifting toward handheld or smartphone devices" because everyone has long train rides and long bus rides to work, and people are spending more time in their own rooms and not in the living room.
This might help explain the landscape of this year's Tokyo Game Show. The show exhibited 1,363 titles, up from last year's 962 titles. However, the main reason for the jump is that the number of smartphone game titles almost doubled from last year. iOS games dominated the show, with 259 titles being exhibited compared to 114 last year. The event also featured 246 Android titles (compared to 112 last year) and 32 other smartphone titles and 22 "feature phone" titles (compared to 7 and 24 titles last year, respectively). Compare this to the number of games being featured for the main consoles: 42 for PS4, 43 for PS3, 24 for PS Vita, 24 for Xbox One, 16 for Xbox 360, 41 for Nintendo 3DS, and 13 for Wii U.
Some of the biggest booths at the convention were for GREE and DeNA, which focus on smartphone games. The event even featured a large Smartphone Accessory Collection section in the merchandise area, and a Smartphone/Social Game Area featuring smartphone-only developers that was as large as Sony Computer Entertainment's entire booth.
Tokyo Game Show was also quite focused on Japanese games — the only major booth by a Western developer was Electronic Arts, and Microsoft Japan's booth featured mostly Western-developed games.
The Booths
Konami's booth was easily one of the most popular thanks to Hideo Kojima's Metal Gear Solid V: The Phantom Pain. Each time there was a stage event at the booth, whether it be for a game demonstration or for a fashion show of clothes based on the franchise, the area was packed. Kojima himself was on the stage several times a day to talk about the game. The booth also had Metal Gear Solid merchandise and paraphernalia on display.







The booth was really only exhibiting a few other games, mostly The Legend of Heroes Sen no Kiseki II, Osawari Tantei Ozawa Rina: Nameko Rhythm, Dragon Dice, and Winning Eleven. Each of these games had little interest at the show.


Arc System Works was mainly showing trailers and gameplay for Guilty Gear Xrd -SIGN-, and G-Cluster was focused on Zoids. Both booths had light interest from visitors.



The most popular game at Sega was undoubtedly Yakuza 0, which also had a hostess club attraction where girls dressed as hostesses would come out and pose intermittently for pictures on a couch.


Sega's other offerings included trailers, displays, and demo stations for games like Chaos;Child, Le Eden de la Grisaia, The World End Eclipse, Shining Resonance, Phantasy Star Online 2, Phantasy Star Nova, Dengeki Bunko Fighting Climax, and Hatsune Miku Project Mirai Deluxe.








Sony Computer Entertainment
Sony was pushing Bloodborne, 1886: The Order, and Destiny at its gigantic two-story booth. On the business days the wait time was longest for these three games as well as FIFA 15 and Compile Heart's Omega Quintet. Sony also had a stage where gameplay demonstrations were almost constantly being held.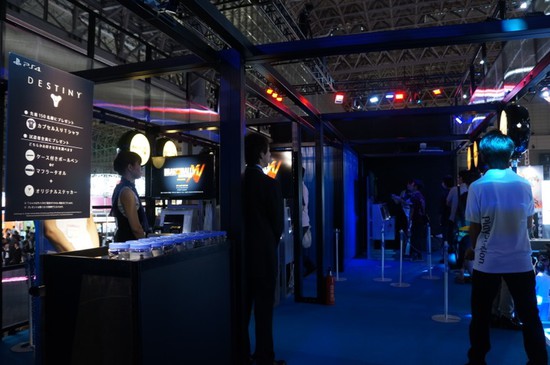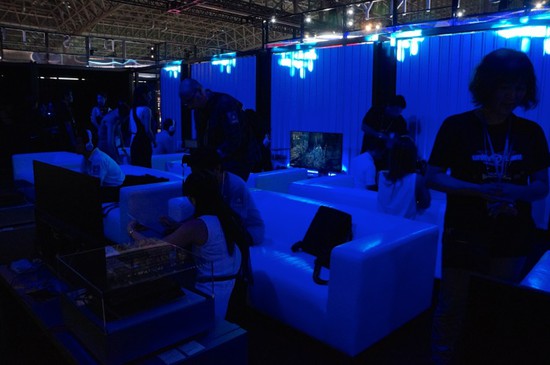 Perhaps the longest wait at Sony's booth was for Project Morpheus. The company had multiple booths set up for those wishing to try out the device. The one we tried out was "The Deep" where players are standing in a shark cage and must shoot a shark that keeps attacking while also dodging other wreckage.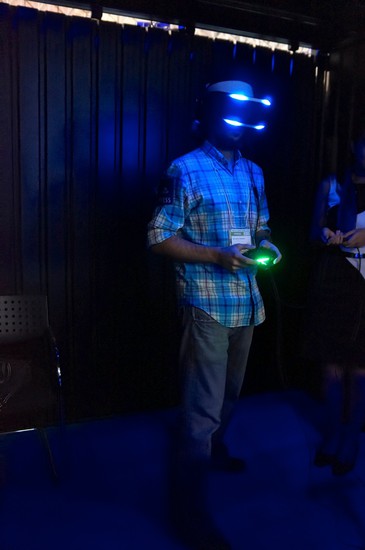 The booth also had many special-edition PS4 and PS Vita consoles on display on the first floor.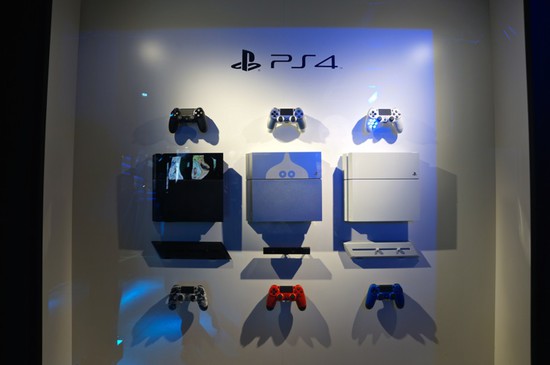 D3 Publisher
D3 Publisher was focusing its stage events on games like Earth Defense Force 4.1: The Shadow of New Despair and Earth Defense Force 2: Portable V2.



However, the company's Onechanbara Z2: Chaos display was the most popular area for visitors. Here is a picture of it with no further comment.

No surprise that most of CAPCOM's booth was focused on Monster Hunter 4G. Resident Evil Revelations 2 and The Great Ace Attorney also had big displays; Resident Evil Revelations 2 was the the biggest hit with visitors, with long wait times to try out the game.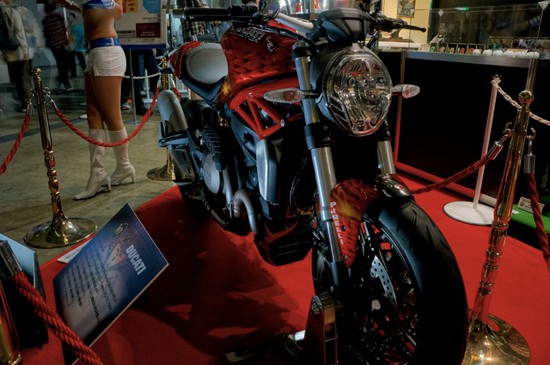 Marvelous
Marvelous's two games at the event were Kinki no Magna and Bakumatsu Rock. There was decent interest for the booth's displays, but not much for the games themselves.





Square Enix's massive booth garnered a lot of attention throughout the weekend, as expected. The trailer theater was really pushing smartphone games, especially 3594E, Final Fantasy World Wide Words, and Final Fantasy VII G-Bike. Playable games included Final Fantasy Type 0 HD, Kingdom Hearts HD 2.5 Remix, Chaos Rings III, Final Fantasy Explorers, Bravely Second, Final Fantasy XIV: A Realm Reborn, and the company's new Dive In streaming service.







By far the most popular game at the booth was A Realm Reborn (a popular MMO with a major upcoming content patch that includes 1 new playable class and a new job), which had a two-hour wait to play on business days and was nigh-impossible to get into on public days.

DeNA
DeNA's booth was just an event stage and cardboard cutouts from various anime and game franchises such as Muv-Luv Alternative and High School DxD. The stage events included talks and guest voice actresses for some of its more popular bishōjo Mobage titles.




Electronic Arts
EA was pushing Battlefield Hardline at its booth, but even with the huge display with people dressed in full swat gear walking around, there was little interest from visitors.


Tokyo Otaku Mode was displaying enlarged panels from Ume's Giga Tokyo Toybox manga series, which chronicles the lives of the staff of a video game startup company. Ume (made up of manga duo Takahiro Ozawa and Asako Seo) attended the convention on Sunday for autographs. The blown-up panels of various scenes from the manga were available in both Japanese and English, although the staff there said the company wasn't sure if it would publish the manga in English on the website in the future.




Asia New Stars Area
Tokyo Game Show boasted that it featured games from 32 countries this year (although the show featured 33 last year). The event even featured an entire area dedicated to Asian game developers. There were rows of small booths for developers from Cambodia, Vietnam, Laos, the Philippines, Thailand, Maylasia, Indonesia, and Taiwan. Taiwan by far had the biggest booth, although these booths weren't available on the public days.


Romance Simulation Game Area
This year's featured quite a large area dedicated just to developers of romance sim games. Tokyo Game Show touted the area as "a dedicated area for female game players." The biggest booth within this area by far was Voltage, whose smartphone games have had decent success in the English market as well. Voltage's booth included an actual human-sized cage where girls could get in and have their picture taken. This cage was a reference to its Kissed by the Baddest Bidder sim game where the heroine is sold in a stage auction on the black market to a group of handsome men.




Other (somewhat questionable) exhibits included one where you could either take a photo of a handsome man on a bed, or have the picture taken of you on the bed with him. That particular booth also offered merchandise called "Ore no Milk Candy" or "My Milk Candy." That sums up this whole area pretty well.


Indie Game Area
The Indie Game Area of Tokyo Game Show was small but contained nearly 80 booths featuring individual developers. No one booth seemed to garner more attention than others, but each booth had a decent amount of interest. The staff working these booths seemed to be the most passionate at the whole event.




Bandai Namco Games had a large stage event area as well as numerous demo areas for console and smartphone games, including Gundam Breaker 2, Dragon Ball Xenoverse, God Eater Rage Burst, Godzilla, Tales of Zestiria, and more. The crowds were heavy for stage events.











Microsoft Japan
Microsoft was trying to cater to the Japanese populace with its large booth, but there was a surprising number of people at the Call of Duty Advanced Warfare and Evolve demo stations. Other stations with decent interest included those for Psycho-Pass and Mighty No. 9.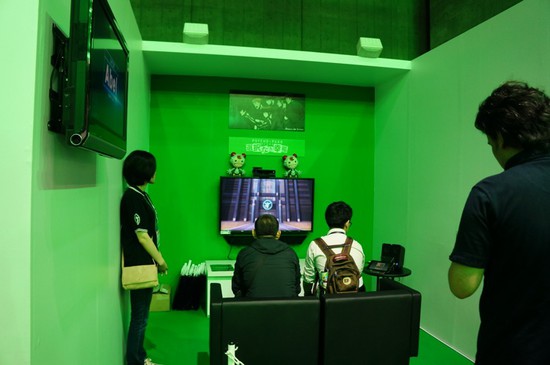 GREE
GREE's booth included many demo stations for its anime-themed and original smartphone games. The staff were aggressive in handing out large GREE-themed tote bags, and by the end of each day most of the attendees were carrying them around.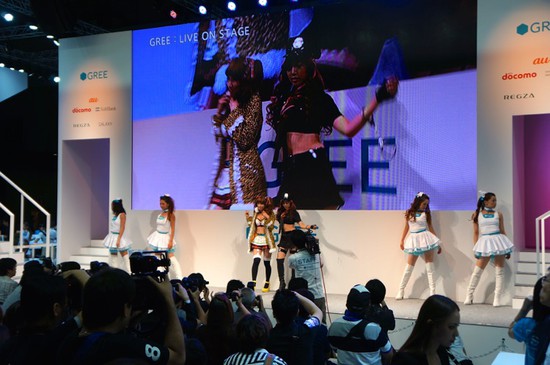 Wargaming Japan
World of Tanks was incredibly popular at the convention, and the stage events and demo stations at the booth were constantly crowded. The big news from this booth was the collaboration with Ark Performance's Arpeggio of Blue Steel franchise.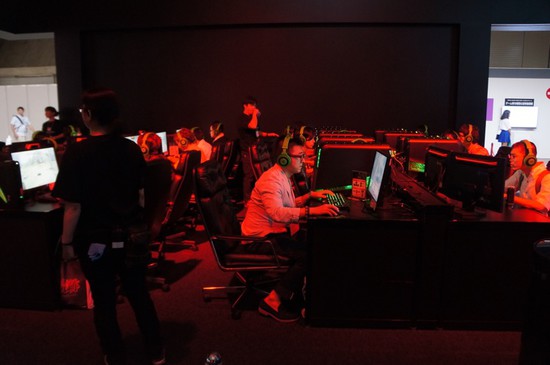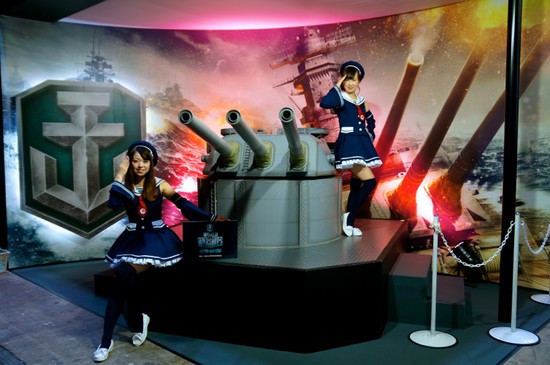 Bushiroad's booth was mostly just a stage for events, and the company was advertising various mobile games including an Evangelion game. The booth also had a large display for its Toys Drive tap battle RPG.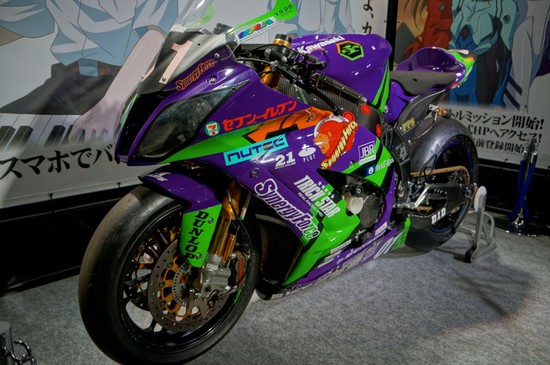 The most interest in DMM's booth was for Kantai Collection displays and figures. Otherwise the booth had stage events for its various PC games such as Hounds and Sky Lore.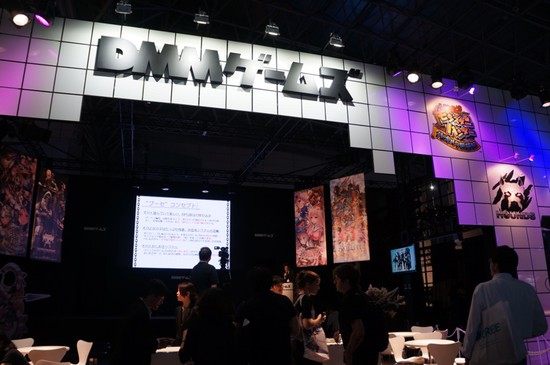 The biggest game at KOEI Tecmo's booth was Hyrule Warriors. Other games shown at the booth included Dead or Alive 5: Last Round, Toukiden Kiwami, and Dynasty Warriors 8: Empires, among others.



Oculus VR
Like Project Morpheus, the Oculus VR area had a lot of interest from visitors, with very long lines with appointments booking solid very early each day. Oculus VR had two "games" to play at the booth, a space fighter game and a dance game. Both were more experiences than actual games. Compared to Project Morpheus, the Oculus VR felt more like a completed device with a wider field of view, although the Morpheus headset was lighter and easier to wear and move around in.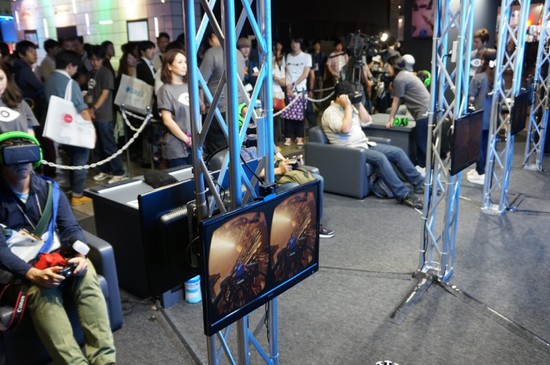 Other Areas
The convention had a large Game School Area where those interested in studying game design could talk to recruiters from various colleges across Japan. Other smaller booths included Niconico, Monster Energy Bar, Dengeki, and more. The business days also included areas for Cloud/Data Centers and Business Solutions.
Dengeki Online's booth had an Oculus experience so it was always crowded.



Niconico's Booth



Final Fantasy cosplayers at Xperia's booth.



Game School Area




Galboa's booth in the Smartphone Game Area.



Crypton Future Media's booth.



Monster Energy's booth was demoing Need for Speed Rivals, and also apparently fueling the entire event based on the amount of people walking around with cans of the drink.

The Merch
The merchandise area had its own hall and included booths for Sega, Bandai Namco Games, Konami, Square Enix, Spike Chunsoft, Cospa, Arc System Works, and more. Many of Konami's wares were sold out early on each day.










The Public Days
The public days of TGS are a completely different animal from the business days. The vibe is more energetic, the crowds much more insane, and the interest is different. While on business days much of the interest was focused on Western games and console games, the public days had more interest in smartphone games, Japanese games, and specifically, more niche games like Dengeki Bunko Fighting Climax, Disgaea 5, and Guilty Gear Xrd -SIGN-. More widely popular games such as Winning Eleven games also had a lot more interest on public days. Without a doubt, however, the two most popular games at the show were Metal Gear Solid: The Phantom Pain and Bloodborne.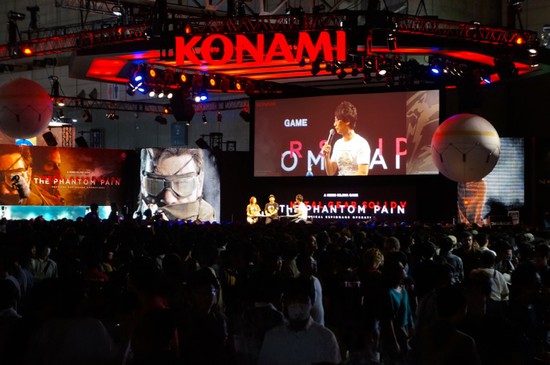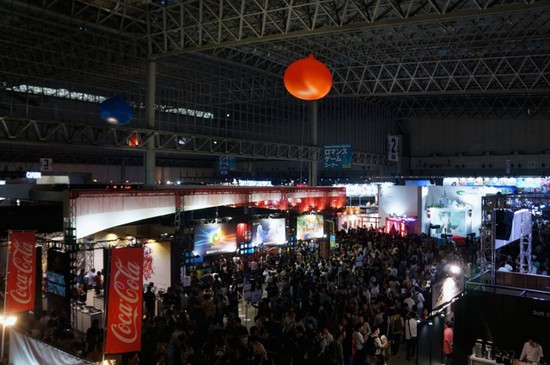 The Cosplay
The convention had an entire area dedicated to cosplay on public days, and the lines to take close-up pictures of individual cosplayers were quite long. Here is a taste of what we saw there.
---
discuss this in the forum (13 posts)
|
this article has been modified since it was originally posted; see change history