×
remind me tomorrow
remind me next week
never remind me
Subscribe to the ANN Newsletter • Wake up every Sunday to a curated list of ANN's most interesting posts of the week.
read more
How Keiichi Sigsawa Went From Writing Kino's Journey to Sword Art Online Alternative
by Kim Morrissy,

When Sword Art Online Alternative: Gun Gale Online was first announced, many Western anime fans responded with surprise and bemusement. How did Keiichi Sigsawa, who is best known for writing the classic road trip light novel Kino's Journey, end up writing a Sword Art Online spinoff? Unlike Sword Art Online, Kino's Journey doesn't feature any of the tropes people typically associate with modern light novels: there is no overpowered protagonist, no harem, no VRMMORPG or game-like fantasy setting, and no sexualizing fanservice. In that respect, Sigsawa appears to be a more "serious" writer than Sword Art Online's Reki Kawahara.

A closer examination of Sigsawa's writing career as a whole, however, would tell you that he is exactly the kind of person who would write a goofy Sword Art Online spinoff and insert himself into the story as "the gun-crazy novelist". Sword Art Online Alternative: Gun Gale Online would have been less surprising to English-speaking fans if they'd been able to read all of Sigsawa's novels over his almost two-decade career. Although Sword Art Online Alternative: Gun Gale Online will be getting an English translation later this year, the only older work of Sigsawa's to receive that same treatment was the first volume of Kino's Journey, and that's now out of print.

So for all those curious Kino's Journey and Sword Art Online fans out there, here's a brief explanation of how Sigsawa got from A to B, and why he didn't have to travel too far.

Keiichi Sigsawa Has Always Been a Goofball
Sigsawa isn't actually a novelist, if you ask his fans. No, he's actually an afterword writer. Most light novels have an afterword at the end of them where the author leaves a short (usually two-page long) message to the readers. Sigsawa has turned that perfunctory task into art. Apparently, "Good luck with your next afterword" is the thing he is most often told whenever he shows up at signings.
Sigsawa's afterwords for Kino's Journey have included song lyrics, quizzes, joke interviews between him and his editor, and replacing the list of published works at the end of his novels with parody titles. His penchant for self-parody is so strong that he even wrote an entire book series, called Gakuen Kino, out of a throwaway story pitch he mentioned in the afterword of volume 4: "Kino turns into a school student and shenanigans ensue."

Believe it or not, Sigsawa's afterwords have even appeared in anime. The seventh volume of Kino's Journey was directly referenced in episode 9 of the 2017 anime adaptation. The text, as translated on Crunchyroll, goes like this: "It was 2003 when I wrote in Kino's Journey 7, 'My dream is to have an animated afterword!' And yes, that was the book coming out when the first anime was broadcast! And now, after fourteen years, my afterword's appearing in a TV anime! You should always be open about your dreams! Everyone, don't give up on your dreams! Don't give up on your dreams! It's important, so I said it twice!"
Sword Art Online Alternative: Gun Gale Online got an animated afterword, too. Episode 5.5 is a recap episode, but after the credits there's a blooper reel called the atogaki (the Japanese word for "afterword"). This is translated into English as "post-credits", so the in-joke may be lost on some audiences, but even people who just watch the anime adaptations of Sigsawa's works should be getting the impression that he doesn't take himself too seriously.


Keiichi Sigsawa Has Always Been a Gun Nerd
If you know your gun makers, this can be worked out from Sigsawa's pen name. SIG Sauer is the name of a popular German gun maker, and Sigsawa actually owns a SIG Sauer P226 pistol in real life. Although the pronunciation of the name can be written more precisely in katakana, Sigsawa gave it an approximate Japanese pronunciation "shigusawa" so that it could be written in kanji; the English spelling is derived from that.
Perhaps Sigsawa's gun mania was fueled by his experiences as an exchange student in the United States, where guns are relatively easier to obtain. Thus, he is one of very few Japanese gun hobbyists to have owned and handled real firearms instead of model guns. When supervising the small arms for the Sword Art Online II anime, he even went to a shooting range in Guam to fire the guns in order to gauge the sound and recoil.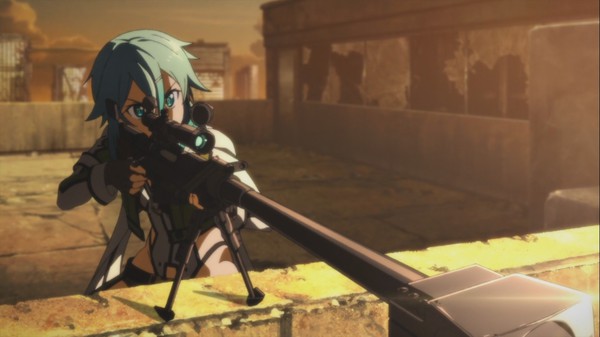 Sigsawa's deep knowledge of guns is evident in his novels. Kino's Journey includes detailed descriptions of Kino's firearms; this stands out in a novel with otherwise minimalist descriptions. The Tale of a Single Continent series (which includes Allison, Lillia and Treize, and Meg and Seron) includes many geeky explanations of roughly 1930s-era fighter airplanes and vehicles, but guns get featured in a lot of detail, too.
Keiichi Sigsawa Has Always Been Writing Spinoffs of Other Authors' Work
In his afterwords, Sigsawa expresses a liberal attitude towards fanfiction: he's absolutely fine with people writing fanfiction based on his work, even pornographic content if that's what rocks their boat. He just won't read the fanfiction because he wouldn't want them to influence his own ideas.
As for writing fanfiction and/or spinoffs of other authors' work himself, Sigsawa is fine with that, too. In 2006, he contributed a short story to a Bludgeoning Angel Dokuro-chan anthology. He's also collaborated on a few novels with other light novel authors for the Dengeki Collaboration project, which were relay novels that were serialized in the Dengeki hp and Dengeki Bunko Magazines (the former is now discontinued).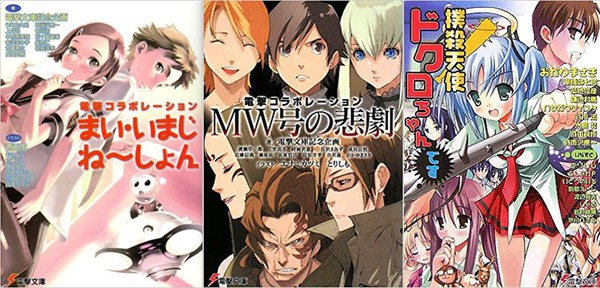 Sigsawa was able to write a Sword Art Online spinoff in particular because of his connections to both Dengeki Bunko and the anime industry. According to an interview with ANN, he became intensely fascinated with the series after reading the Gun Gale Online arc and wished that he could write stories in that setting. In the first afterword of Sword Art Online Alternative: Gun Gale Online, he also mentioned that he knew Nobuhiro Osawa, the chief producer of the Sword Art Online, because he had also been a producer on the original Kino's Journey anime in 2003. It was Osawa who asked him to supervise the firearms in the Sword Art Online II, knowing what a gun nerd he was. That gave Sigsawa the opportunity to ask Reki Kawahara and the Dengeki Bunko Editorial Department if he could write a full-on spinoff, and the rest is history.
Keiichi Sigsawa Is Up To Date with Light Novel Trends
From 2002 to 2014, Sigsawa didn't start any new light novel series. He may have written some short stories and contributed to magazines and anthologies, but he didn't launch anything ambitious. In an industry where even the successful authors tend to be one-hit wonders, how did he manage to stay relevant?
Part of Sigsawa's enduring appeal is the approachability of his writing. Although Kino's Journey and the Tale of a Single Continent are both long series, it's not hard for new readers to pick them up part-way through. Kino's Journey is written as a series of (mostly) standalone vignettes, while the Tale of a Single Continent series is split up into different generations, each with their own protagonists. Sigsawa also makes sure not to use any difficult words or phrases in his writing, even when he's sharing gun minutiae.
Since 2006, Sigsawa has also been part of the selection committee for the Dengeki Novel Prize, helping to evaluate thousands of submissions every year. This would have kept him up-to-date on modern light novel trends, especially as things change rapidly from year to year. In 2014, he channeled his experiences and knowledge of the industry into a three-volume treatise on what it's like to be a light novel author: the amusingly titled I'm A High School Boy and a Successful Light Novel Author, But I'm Being Strangled By A Female Classmate Who's A Voice Actress And Is Younger Than Me. Despite the ridiculous title, this series actually offers the most in-depth and insightful look into the industry that you'll find in a light novel.

All of this is to say that Sigsawa is an adaptable author with a deep understanding of light novels. If he wasn't so experienced or sensitive to the style of modern titles, he probably couldn't have written a spinoff that fit in so seamlessly within Sword Art Online's universe.
When you consider all of the factors I outlined above, it shouldn't surprise you that Sigsawa wrote Sword Art Online Alternative: Gun Gale Online. In many ways, it's the culmination of all of Sigsawa's quirks and indulgences as a writer. Yet because he's so adaptable, it's also hard to predict where he will go next. Perhaps he may get more involved in anime production; he is slated to write some Lupin the Third: Part 5 episodes this season alongside other big-name writers like the Final Fantasy and Kingdom Hearts writer Kazushige Nojima.
One thing's for certain, though - whatever he works on is bound to be geeky.

---
discuss this in the forum (9 posts)
|