Interest

Yuruyuri Anime Cast Sings 2nd My Little Pony Opening

posted on by Sarah Nelkin
---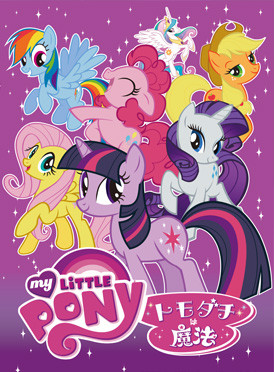 The Japanese Twitter account for Hasbro's animated series My Little Pony: Friendship Is Magic announced on Saturday that "Nanamori-Chu Goraku Bu," the voice actress group from the Yuruyuri television anime, is singing My Little Pony's new Japanese opening theme song. My Little Pony ~Tomodachi wa Mahō~ will begin using the new "Magical Dai☆Dai☆Bōken!" (Great Big Magical Adventure!) theme in July.
"Nanamori-Chu Goraku Bu" (Nanamori Middle School Amusement Club) is composed of Minami Tsuda, Rumi Ookubo, Shiori Mikami, and Yuka Ōtsubo. They have already sung theme songs for the anime adaptation of Namori's Yuruyuri manga. The CD with the "Magical Dai☆Dai☆Bōken!" song will ship on July 31.
The Japanese dub cast of Hasbro's show includes Miyuki Sawashiro (Twilight Sparkle), Suzuko Mimori (Pinkie Pie), Sora Tokui (Applejack), Izumi Kitta (Rainbow Dash), Mikoi Sasaki (Rarity), Emiri Katō (Fluttershy), Motoko Kumai (Spike), and Kikuko Inoue (Princess Celestia). Mimori contributed the show's first opening theme, "Mirai Start" (Future Start), while AKB48's sister idol group HKT48 contributed "Kataomoi no Karaage (Amakuchi Hime)" as the ending theme.
Image © 2013 Hasbro
---