Interest

Enjoy Craft Beer and Burly Men at Macho Bar in Tokyo

posted on

2016-02-14

17:45 EST by Eric Stimson
Get picked up while quaffing regional brews
---
Macho 29, a group of muscle-bound men fond of showing off their impressive biceps, is opening a special Macho Craft Beer Bar for one day in Tokyo. The bar pairs well-crafted muscles with craft beer, both of which hail from different parts of Japan. Hyōgo Prefecture (where Kobe is located) is represented by Koala Koarashi and Rokko Beer, a fruity beer that uses Japanese apples. Chisei Ueda and Inawashiro Original Beer, a wheat-based weizen, represent Fukushima Prefecture in Tōhoku. YouTube star Saiyaman Great and Oh!La!Ho Beer (motto: "We jam out the beer like a band!!") hail from Nagano Prefecture in Chūbu.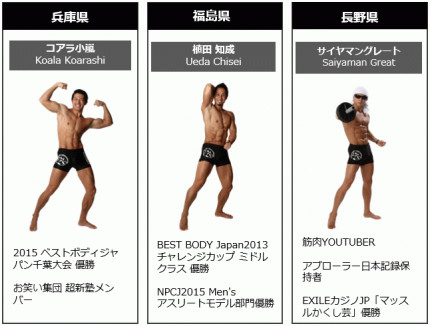 Tickets cost 4,200 yen (US$37) and must be bought in advance here. The event will be held on February 20 at three different times: 11 AM-1 PM, 2-4, and 5-7. There's only enough space for 50 people in each session. The bar also provides skewers of grilled chicken and broccoli for 500 yen (US$4.50), and for another 500 yen (US$4.50), the macho men will pick you up, complete with a commemorative picture.
Macho Craft Beer Bar will be located at the TABLE Gallery at Harajuku Station. Macho 29 has been involved in other macho activities before, including a macho bus tour and selling macho snowcones. A similar event was held in Nakano last Easter.
Beer-drinking has been enjoying a surge among young women in Japan lately. If you prefer muscle-bound anthropomorphic Pokemon, perhaps you'd be interested in this Machamp article.
[Via Tokyo Bargain Mania and Peatix]
---