Interest

Shōnen Jump Authors Comment on Bleach Ending

posted on by Amanda Whalen
The 38th issue of Weekly Shonen Jump, released on August 22, contains the very last chapter of Tite Kubo's long-running series Bleach. Kubo wrote, "One way or another, I was able to finish drawing it in 15 years! I'm very thankful to all of the people who read it."
Comments from other manga artists whose works are serialized in Weekly Shonen Jump were published in the same issue. Several of them are shown below.
Kōhei Horikoshi of My Hero Academia wrote, "I yelled, 'Bankai!' as I opened my umbrella. Congratulations on completing Bleach!"

Haruichi Furudate of Haikyu!! wrote, "It had very cool images. I always admired it. Kubo-sensei has worked very hard."

Eiichiro Oda of One Piece wrote, "Kubo-san must be very tired after serializing Bleach for 15 years. Rest well."

Kawada of Hinomaru Zumō wrote, "It was all very cool! I admire it! Kubo-sensei has worked very hard!"

Yūki Tabata of Black Clover wrote, "It had a lot of influence on me. Kubo-sensei, serializing it for such a long time must have been a lot of work!"

Daisuke Ashihara of World Trigger wrote, "Bleach is finished. Kubo-sensei, thank you for your hard work of 15 years."

Osamu Akimoto of Kochikame wrote, "Kubo-kun, you've worked hard! Please take this chance to go on a trip!"

Shun Saeki of Food Wars! Shokugeki no Soma wrote, "Kubo-sensei really worked hard serializing it! I'm really looking forward to his next project!"

Shūichi Asō of The Disastrous Life of Saiki K. wrote, "Kubo-sensei, you've worked hard for 15 years! I look forward to your next work!"

Hideaki Sorachi of Gintama wrote, "Jump has gotten lonelier. Kubo-sensei, please come back soon!"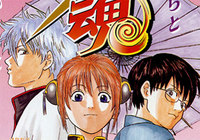 Bleach was first serialized in Weekly Shonen Jump in 2001. The manga will be compiled into 74 total individual volumes. The first 67 are currently available in the U.S.
The Bleach manga was adapted into an anime that began airing in 2004 and ended in 2012, with 366 total episodes. The series has also gotten several anime films, novels, video games, and stage plays.
Update: Correction made to Kōhei Horikoshi quote. Adjustments made to Daisuke Ashihara quote and Shūichi Asō quote. Thanks to 0Ninjaz0 and Nodz.
---