×
remind me tomorrow
remind me next week
never remind me
Subscribe to the ANN Newsletter • Wake up every Sunday to a curated list of ANN's most interesting posts of the week.
read more
Interest

Former Shonen Jump Editor-in-Chief: Readers Can Decide Manga's Cancellation in 1st 3 Weeks

posted on by Jennifer Sherman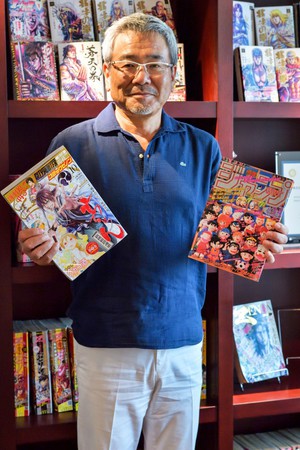 Nobuhiko Horie was editor-in-chief of Shueisha's Weekly Shonen Jump magazine during its "golden age." He was the editor in charge of manga such as Buronson and Tetsuo Hara's Fist of the North Star and Tsukasa Hojo's City Hunter. Horie revealed in an interview with the Oricon Music Store website that the magazine's reader survey system can lead to a series' cancellation as early as three weeks after its debut.
Horie said that even if the work in question is by a major creator, if its popularity starts to fall, the magazine may decide to discontinue the series based on reader survey results. He said that editors can determine whether or not a work will become popular by about three weeks after it debuts. The magazine aims to operate closely in line with readers' desires and tastes. Therefore, it places a lot of weight on the results of reader surveys, and readers can determine whether or or not manga will continue.
Horie added, "Surveys have more objectivity than anything." He explained that editors can tell creators that their works are not interesting, so they will be cancelled. However, the situation is sometimes difficult for creators to comprehend unless they see the results of the regular reader surveys.
Horie admitted that the decision to cancel some series can be made too early. He said, "There are also cases where manga go up in popularity little by little," and that fact is sometimes overlooked. Horie said that the standard for cancellation is 10 weeks, but some series start to gain popularity by the seventh or eighth week. Horie believes Shonen Jump's practice of deciding to end manga early is a disadvantage to works that develop slowly. He cited Kōji Koseki's Kenritsu Umisora Kōkō Yakyū Buin Yamashita Tarō-kun and Haruto Umezawa's Hareluya as examples.
Hiroyuki Nakano, the new editor-in-chief of Weekly Shonen Jump magazine, said in July that while sales of the print versions of the magazine are decreasing, sales of the magazine's digital version are increasing by just as much. He noted that the total sales of the magazine including both print and digital are only increasing.
The magazine is marking its 50th anniversary this year with new printings of its landmark issues, an international manga contest, a smartphone game, and an art exhibition.
[Via Otakomu]
---