News

Record 450,000 Visit Lucky Star Shrine on New Year's

posted on by Egan Loo
Crowds grow 5x since 2007; 2,077 buy Izumi family's certificate of residence
---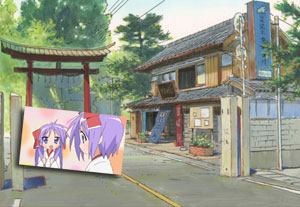 Over the first three days of the new year, a record 450,000 visitors came to the Washinomiya Shrine, the Tokyo area's oldest shrine and a real-life backdrop for the Lucky Star anime series. Otaku have been flocking to this shrine since the 2007 anime featured Kagami and Tsukasa Hiiragi — twin sister characters who supposedly work at the shrine as miko (shrine maidens).
This year's attendance is 150,000 higher than the attendance at 2008's festivities. Since the anime premiered, attendance during the New Year's holiday season has grown five times bigger — from 90,000 in 2007 and 300,000 in 2008 to 420,000 in 2009 and 450,000 this year.


Just east of Washinomiya on Sunday, 2,077 fans bought Satte City's official certificate of registration for the family of the Lucky Star character Konata Izumi. Lucky Star manga creator Kagami Yoshimizu — who came from Satte himself — drew the illustration on a special certificate of residence for the fictional family.
The registration ceremony took place on Sunday during the traditional New Year's holidays, and Yoshimizu himself appeared (with his mother) to accept the original certificate from Mayor Hideo Machida. Asahi Shimbun's My Town Saitama website posted images from the ceremony.
The first 643 fans, who waited in line since at least early morning, received numbered certificates. Yoshimizu signed the first 53 certificates. The certificates will continue to be sold at the city's department that promotes economic growth.
Yoshimizu lived in Satte until 2008, and the Satte City Chamber of Commerce and Industry renovated his former home after he moved out. The home has since reopened last March as the "birthplace" of Lucky Star. The "Kimagure Studio Yoshimizu Kagami Gallery Satte" ("Whimsical Studio Kagami Yoshimizu Gallery Satte") now features a recreation of the Izumi family's fictional home. Yoshimizu's former address — Satte City Kita 3-14-18 — is listed on the Izumi family's certificate of residence.
Source: Mainichi Shimbun's Mantan Web, Asahi Shimbun's My Town Saitama
---