News

New Bleach Episodes Return to Adult Swim on August 28

posted on by Gia Manry
---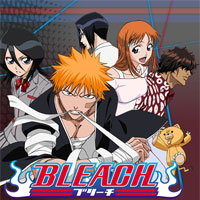 Adult Swim, the late-night programming block of the Cartoon Network in the United States, has posted its new August schedule with the return of new Bleach episodes to the lineup. Two Bleach movies — Bleach the Movie: Memories of Nobody and Bleach the Movie 2: The DiamondDust Rebellion (Bleach: The DiamondDust Rebellion - Mō Hitotsu no Hyōrinmaru) will also run back-to-back on August 14 at midnight and 2:00 a.m. respectively. The latest two rerun episodes of Bleach, #166 and #167, will repeat at 12:30 a.m. and 1:00 a.m. on August 21. New episodes of Bleach will then begin on August 28, with one new episode per week at midnight, followed by one new episode of Kekkaishi.
Bleach is taking over the timeslot currently held by Fullmetal Alchemist: Brotherhood, which will run its 26th episode on August 7. Additionally, Cowboy Bebop and Ghost in the Shell will complete their runs on August 8 and be replaced by the American animated series King of the Hill and Boondocks, respectively.
The anime adaptation of Tite Kubo's Bleach manga launched in Japan in 2004 and on Adult Swim in the United States in 2006. In March of 2010, Adult Swim posted a schedule which featured no new Bleach episodes for April, effectively putting the series on hiatus. In the meantime, Crunchyroll announced that it would begin simulcasting Bleach as of June 8, and VIZ Anime has begun "quick-casting" episodes one week after their Japanese broadcast. Bleach star Masakazu Morita, the voice actor who plays lead character Ichigo Kurosaki, has been announced as a guest for Anime Expo 2010.
[Via ToonZone, AnimeOnDVD]
---