News

Code Geass Inspires KMF Variation Project with Manga

posted on by Egan Loo
---
On Saturday, the inaugural issue of Kadokawa Shoten's Newtype Ace magazine is revealing the launch of a new Code Geass project called KMF Variation with a manga series in the magazine. The project will feature customized versions of the popular robotic Knightmare Frame mecha from the Code Geass anime franchise.
The Gundam anime franchise has spawned similar spinoff projects, under the umberella name "Mobile Suit Variation" or "MSV," that explore different variants of the franchise's mobile suits that were previously unseen in the anime. Some of the variants would eventually be animated in later television, film, and video projects.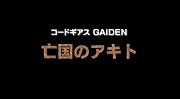 The magazine also reports that the Code Geass Gaiden: Bōkoku no Akito anime project is still in the works. Masayuki Ozaki, the General Manager of Overseas Development at the anime studio Sunrise, confirmed in July that the studio is "looking forward to releasing" the new Code Geass anime project next year, although its production is behind schedule.
[Via 0taku.com]
Update: The magazine also reports that a manga version of Code Geass Gaiden: Bōkoku no Akito is being prepared. [Via Moe Ota-News Sokuhō]
---