News

Sentai Filmworks Announces The World God Only Knows Dub Cast

posted on by Crystalyn Hodgkins
1st season to get DVD, Blu-ray release in January
---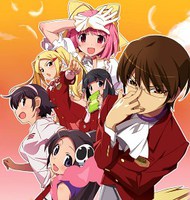 Sentai Filmworks announced on Wednesday its English dub cast for its upcoming release of The World God Only Knows television anime series. Sentai Filmworks will release the first season on Blu-ray and DVD in January, with the second season slated to be released later on in 2012.
The dub cast is as follows:
Keima Katsuragi – Chris Patton
Elsie – Luci Christian
Ayumi Takahara – Kaytha Coker
Mio Aoyama – Hilary Haag
Sora Asuka – Melissa Davis
Kanon Nakagawa – Brittney Karbowski
Mari Katsuragi – Shelley Calene-Black
Shiori Shiomiya – Hilary Haag
Miss Nikaido – Elizabeth Bunch
Chihiro Kosaka – Serena Varghese
Morita – Kalob Kartinez
Mio's Father – Chris Hutchison
Mr. Kodama – Chris Ayres
Lime – Serena Varghese
Yuri – Monica Rial
In addition Sentai Filmworks noted that Steven Foster will direct the dub.
Sentai Filmworks had announced that it had licensed the series. The company then confirmed last month that it licensed both seasons of the show.
Tamiki Wakaki's The World God Only Knows (Kami Nomi zo Shiru Sekai) manga inspired the 2010 anime of the same name and a 2011 sequel. In the romantic comedy, Keima Katsuragi is a high school boy who is known as the "Capturing God" for his success at romance simulation games. However, thanks to a contract with a devil, he now has to capture the hearts of real girls to catch the runaway spirits hidden in those hearts.
[Via The Fandom Post]
---