News

Sentai Filmworks Licenses Towa no Quon, The World God Only Knows (Updated)

posted on by Crystalyn Hodgkins
---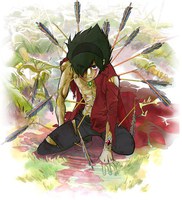 Sentai Filmworks announced at its Anime Weekend Atlanta panel on Friday that it has licensed the Towa no Quon film series, The World God Only Knows, Akikan!, and And Yet the Town Moves.
The 6-part film series Towa no Quon follows the story of a boy named Quon who wakes up with supernatural powers. He must protect himself and those like him from Kestos, the secret organization hunting them. The first installment in the Towa no Quon series opened in five Japanese cities on June 18. The next three films premiered on July 16, August 13, and September 10 in Japan. The fifth installment in the supernatural anime film series will open in Japan on November 5.
Takeshi Mori (Otaku no Video, Gunsmith Cats, Vandread) is serving as the BONES series' "collaborative director" in place of the late Umanosuke Iida (Mobile Suit Gundam: The 08th MS Team, Hellsing). Iida passed away from lung cancer last November as he was planning the series.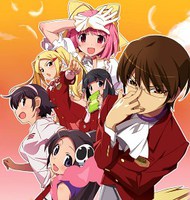 Tamiki Wakaki's The World God Only Knows (Kami Nomi zo Shiru Sekai) manga inspired the 2010 anime of the same name and a 2011 sequel. In the romantic comedy, Keima Katsuragi is a high school boy who is known as the "Capturing God" for his success at romance simulation games. However, thanks to a contract with a devil, he now has to capture the hearts of real girls to catch the runaway spirits hidden in those hearts. Sentai Filmworks has not yet confirmed with ANN that it has licensed both seasons of the series.
Crunchyroll simulcast both seasons of the series outside of Japan.

The story of the television anime adaptation of Riku Ranjō and Hiro Suzuhira's Akikan! romantic comedy light novels revolves around a typical high school boy named Kakeru Daichi and the can of melon juice soda that he bought from a vending machine. The can suddenly transforms into a beautiful but standoffish girl that Kakeru nicknames "Melon," and more "Akikan!" ("empty can" or "A-Machine") girls appear. However, Akikan! girls need to be infused with carbon dioxide from kissing to survive. The 12-episode series premiered on TV in Japan in 2009.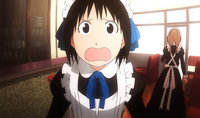 The And Yet the Town Moves television anime series is an adaptation of Masakazu Ishiguro's Sore de mo Machi wa Mawatteiru comedy manga. The comedy story centers around Seaside, a slightly odd maid tea shop (kissa) in an otherwise ordinary shopping district of a mundane neighborhood in Tokyo. (Despite the addition of maids, Seaside is a traditional kissa, instead of one of the maid cafés made popular elsewhere.) Hotori Arashiyama works at Seaside and daydreams about being a high school girl detective. She, the other workers, and Seaside's few customers have various slice-of-life adventures. The anime premiered in Japan in October 2010.
Update: Background information added. Sentai Filmworks has not yet confirmed with ANN that it has licensed both seasons of The World God Only Knows.
Images © Tamiki Wakaki/Shogakukan, Kaminomi Project, TV Tokyo
© Riku Ranjō, Hiro Suzuhira/Shueisha , A-Kikan
© Masakazu Ishiguro, Shonen Gahosha/SoreMachi Production Committee
---