News

Hatsune Miku Concert Streamed for Free Thursday Morning

posted on by Daryl Bunao
Niconico
streams 2 recorded Japanese events as test for ticketed live stream from Singapore
---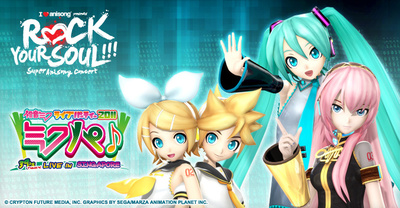 The video streaming service Niconico announced on Wednesday evening that it will stream footage from two events of virtual diva Hatsune Miku for free early Thursday morning.
On Thursday, 6:00 a.m. PST (10:00 p.m., Singapore time), Niconico will be providing a free stream of "Hatsune Miku Live Concert Sapporo," a recording of the Miku events that took place on May 9 at Zepp Tokyo and on August 16–17 in Sapporo, Hokkaido. The stream will act as a lag test for the next day's stream.
On Friday, 3:00 a.m. PST (7:00 p.m., Singapore time), Niconico will then host a pay-per-view stream of the "Hatsune Miku Live Party in Singapore 2011," which takes place at Anime Festival Asia 2011. According to the festival, the upcoming Singapore concert will act as a "sequel" to the Sapporo concert. Users are asked to pay US$11 in order to view this stream. Niconico subscribers can also watch the "timeshift" version of the concert until November 27.
Miku's Sapporo concert will also screen in 10 theaters across the United States on Thursday, November 10. Tickets are available online and will cost US$20.
Previously, Hatsune Miku performed a sold-out concert this year at Anime Expo in Los Angeles on July 2. The Anime Expo concert will receive a Blu-ray, DVD, and CD release at the end of the year.
---